(Diversions, a recurring feature on Aquarium Drunkard, catches up with our favorite artists as they wax on subjects other than recording and performing. Today we catch up Roadside Graves' John Gleason whose EP You Won't Be Happy With Me came out last week.)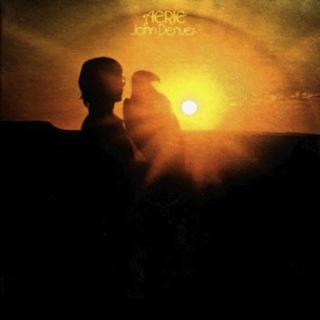 A few months back I was driving to work and heard Shearwater's single "Castaways" on the radio. I may be alone on this, but my first thought was John Denver. The song sounds reminiscent of John Denver's "Calypso" (a 1975 tribute to Jacques Cousteau). Which then begged the question, Would Shearwater consider that a compliment? I hope to hell yes. Shearwater succeeds by crafting dramatic and honest songs in a pool of new music that seems lazily bent on cruising along on sunglasses indoors, surfing metaphors, and the hip of being bored.
John Denver was born Henry John Deutschendorf Jr. in Roswell, New Mexico. Reread that sentence and you can begin to imagine the inner torment and public agony teenage Denver must have endured while moving continually with his military father. Triumphantly Denver stole his father's car and fled to California to visit friends and begin his music career. Only a short time later his father flew to California and brought young John back to Fort Worth, Texas to finish high school. Mirroring what we all must feel when younger that there is somewhere better for us to be than where we are. If only we knew where it was, I suspect California is still high on the list of possibilities. New Jersey possibly dead last.
After spending time in folk groups like the Chad Mitchell Trio (he took over for Chad) Denver began recording on his own after Peter, Paul, and Mary recorded his song, "Leaving on a Jet Plane". Denver's early records were scattered with originals and folk/country covers by songwriters like Kris Kristofferson, John Prine, and Steve Godman. Then for about four years John Denver released a string of records (Poems, Prayers, and Promises/Rocky Mountain High/Back Home Again…) that forever cast his public image to some as a sincere and thoughtful man with an unmistakable voice and to others a man singing with puppets undeserved of critical acclaim. I'm comfortable with and appreciate both sides.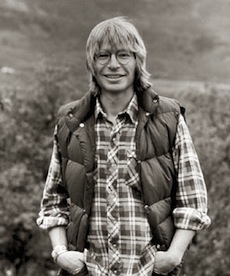 I was born into John Denver as I was Neil Diamond and ABBA. Sure, I wish my mother played Captain Beefheart that would have been so much easier. I can re-imagine my entire four years in high school screwing around with the art girls. But, my childhood was fairly standard. I would walk home from Catholic School, eat two Oreos with milk, help my mother fold the laundry while watching General Hospital and then most times listen to John Denver before dinner. I'd jump on the sofa and wish I was in Colorado.
It's easy to dismiss John Denver as a guilty pleasure. I define a musical guilty pleasure as a song you thoroughly enjoy regardless of what others may think but as soon as you turn the volume up in your car you are also closing the window. Or simply a song you would not play on your first date. If a hot young girl walks by with a vintage John Denver shirt she is most likely being ironic. People will generally give you disapproving looks or smile and wait for you to admit you are only joking. Take comfort in his uncool. It's actually refreshing to not give a shit once in while. He is an artist that you will have to defend.
His smile, glasses and broad optimism are deceiving. Denver was like most of us, shit full of heartache and failures. He suffered from failed relationships, alcohol abuse, and public and critical ostracism (rejected from We are the World!). He was an awkward and sincere artist who probably only felt comfortable when he was on stage.
The Eagle and the Hawk: This is the best example of John Denver as man with arms around nature, before we all drank water out of plastic bottles, and then worried about it. His vocals are unmatched here, I'd love to have heard Roy Orbison sing this one. It is a song where music, words, and vocal match the subject precisely. Originally on his record Aerie, which was unavailable until recently on CD. "All that we can be is not what we are"
MP3: Bonnie "Prince" Billy :: The Eagle and the Hawk (cover)
MP3: John Denver :: The Eagle And the Hawk
I'm Sorry: I was slightly shocked when I first heard this song. It shreds the TV friendly face and hopeful sincerity. It's simply depressing, you can hear the guilt dripping, I mean he's so overcome with guilt that he apologizes for the "way things are in China". But he puts on a good face, as I imagine he must have throughout his career, and tells his friends and family everything is fine despite the fact the relationship in the song is clearly over. "They all know I'm dying down deep inside."   Listen to Red House Painters take on "I'm Sorry" if the John Denver 70's production is too distracting.
MP3: Red House Painters :: I'm Sorry (cover)
MP3: John Denver :: I'm Sorry
Prisoners: Alienated characters. Folk Rock. This is about as badass as John Denver allowed himself to be. "It's a hard life living when you're lonely"
Leaving on a Jet Plane: Good folk songs seem unwritten, to this day I can't believe Bob Dylan wrote "Blowin' in the Wind", it seems impossible. It should be mysterious like Aesop fables, was he one man or many? How the hell did Jerry Jeff Walker write "Mr. Bojangles"? I guess it's hard to believe because it seems like no one in modern music is capable of writing these songs anymore. Who is going to sing "Poker Face" to their children twenty years from now?
MP3: John Denver :: Leaving on a Jet Plane

John Denver is worthy of your time and consideration. Recycle. Shut the shade. Lock the door. Skip some songs, they're not all great. Sing along. Garden. Reuse. Adopt an animal from the local shelter. Call your mother. Visit Colorado. Jump on your bed. Reconsider Denver with these records: John Denver — Farewell Andromeda, John Denver — Rocky Mountain High, John Denver – Aerie, Take Me Home: A Tribute to John Denver (w/ Red House Painters, LOW, and Bonnie Prince Billy), Shearwater – The Golden Archipelago words/ John gleason (Roadside Graves)
Related: Diversions :: Roadside Graves on Kris Kristoffereson
Related: Diversions :: Roadside Graves on Roger Miller
John Denver, The John Denver Show, BBC (1973) – We Don't Live Here No More