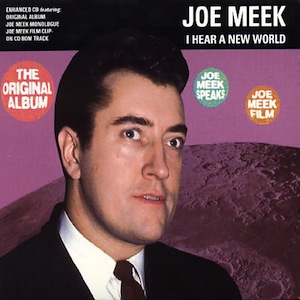 Several years before British producer Joe Meek and the Tornados scored an international super-hit with "Telstar," Meek had composed and recorded his adventurous masterpiece, I Hear a New World, an imaginative musical take at life on the moon.
In 1960, the moon remained very much a mystery and with human spaceflight becoming more and more likely, public anticipation concerning the mysteries of outer space may have reached its peak. Meek stepped forward to create this lunar-inspired "music fantasy" record, technologically and conceptually well ahead of the time. Joe Meek:   "I wanted to create a picture in music of what could be up there in outer space. At first I was going to record with music that was completely out of this world but realized that it would have very little entertainment value, so I kept the construction of the music down to earth."
Helping to keep Meek's compositions "down to earth" was Rod Freeman, the musical director and arranger for the project (the music itself was performed by the Blue Men, formerly the skiffle group the West Five). Freeman, it seems, saved Hear a New World from becoming a stereo sound effects record. Accounts of Meek's early demos report the tracks were a challenging listen.
The music production and engineering for this recording were unique and visionary. In a pre-synthesizer world, Meek used a wide array of homemade electronics and unique instruments to achieve a signature sound. Most notably, perhaps, was the Clavioline, a three-octave keyboard instrument somewhere between an organ and a simple analog synthesizer. The Clavioline handles many of the lead melodies on this record (as well as on "Telstar"). Different types of echo effects (tape echo and chamber echo) are also used liberally and to great effect. Meek recorded these sessions at his legendary home recording studio in North London, where he produced some of the most unique independent music in English history and sadly ended his own life in a murder-suicide at the age of 37.
I Hear A New World was never fully released until recently. In 1960 a sampler EP was released by Triumph Records, including only four of the twelve original tracks. Recorded in stereophonic sound, the sampler was sent to retail stores as a demonstration of what "stereo" was capable of (then, a young technology). The 2001 CD release on RPM is well done, with the 12 original tracks, plus 30 minutes of interviews with Meek (probably only appealing to enthusiasts), as well as a brief film clip of Meek from 1964.
There are discernible musical highlights inside this record, however it is recommended to listen to I Hear a New World in its entirety at first and with headphones. Meek takes you on a memorable journey around the moon, stopping in to visit different lunar civilizations! Don't miss it! words/ b ford
MP3: Joe Meek :: The Bublight
MP3: Joe Meek :: Valley Of The Saroos
————————
+ Download Joe Meek via eMusic's 25 free MP3 no risk trial offer
____________________________________________________________________________________