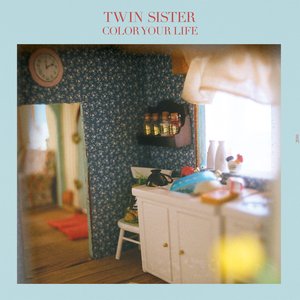 Twin Sister leads listeners down a completely new path with Color Your Life, the quintet's first batch of new recordings since 2008's stunning Vampires Dreaming with Kids EP. Both releases are heavy on atmosphere, spacial rhythms and knockout vocals that make you forget about everything else that's going on in pop music right now. Singer Andrea Estella effortlessly slides into ranges that recall Natalie Merchant, Rachel Goswell and Edie Brickell. It's an odd trio of vocalists to be compared to but one that makes perfect sense after repeated listens.
At six tracks there are three dominating songs on Color Your Life: "Lady Daydream", "Milk & Honey" and the minimal, slow motion space-disco of "All Around and Away We Go". These tracks show the band exploring pop structure, sound effects and volume.
"Lady Daydream" is an extension of the group's dream-pop masterpiece "Ginger", taken from Vampires Dreaming with Kids. Estella's gorgeous voice swoons and floats over guitars layered in chorus effects, bursts of keyboards and a careful drumbeat. It soars and envelopes the listener, but most of all, feels familiar — like we're getting to know the band on a first name basis. Then we're suddenly pulled into the uncharted world of "Milk & Honey", which opens a whole new chapter in the band's repertoire. Estella hits notes and climbs scales that seem uncanny and mathematical, yet work so well within a song that hops and changes shape without ever having to leave the ground. "All Around and Away We Go" is a home run, and easily one of the best pop songs I have heard all year. The bass line wears funk on its sleeves while wrapping around tightly delayed guitar notes. During the end a distorted guitar unexpectedly penetrates the shuffling drums and synths — reminiscent of Eno's Another Green World.
The combination of sounds, vocal tones and use of space feels refreshing and so necessary. Not to say that most new bands today are doing it wrong; Twin Sister is a group that just happens to graze unpopular influences without even knowing it—or are they simply creating music that's in a class by itself? Probably both.   words/ s mcdonald
Previously: Twin Sister :: The Curatorial Club Cassette Series
MP3: Twin Sister :: Lady Daydream
MP3: Twin Sister :: All Around and Away We Go
———————
+ Download DRM free music via eMusic's 35 free MP3 no risk trial offer
____________________________________________________________________________________