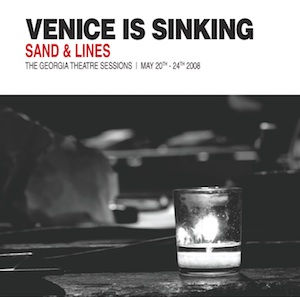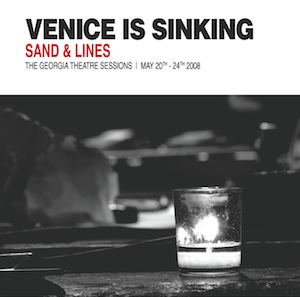 Athens, GA's Venice Is Sinking are set to release their third full-length, Sand & Lines: The Georgia Theatre Sessions, on June 13th. Recorded live, stripped down in the vein of the Cowboy Junkies Trinity Session using two mics and minimal adornment, Sands & Lines exudes a late-night warmth that begs for the vinyl treatment. In terms of overall feel this may very well be the groups most consistent and rewarding work yet.
Included in the set are two covers, one being Galaxie 500's "Tugboat," a track that fits the band's (and in particular vocalist Daniel Lawson's) aesthetic like a second skin. Coincidentally, Galaxie 500 have just reissued their catalog. Being so, I asked Venice Is Sinking's Lucas Jensen to reflect on the choice of the cover and its place within the set at the now defunct Georgia Theatre….
"My memory of this is that Daniel brought it to the band as a dream cover, being the good Galaxie 500 fan that he is, and, given that the song is two chords, it wasn't difficult to pick it up. However, my recollection of the song was iffy, at least in the drum part department, so I concocted this scheme of playing the drums with brushes in one hand and sleigh bells in the other. I'm pretty sure that James had never heard the original, so he was just following Karolyn who played the lead. Over time, we settled into the structure, which bears little resemblance to the original in arrangement, dynamics, or tempo. Personally, I like that it happened organically after a lot of jamming on it, rather than us saying, "Okay, let's switch part A with part C" in an effort to change things up so it wouldn't be a rote cover. Of course, in grand Venice is Sinking tradition, we had to include some sort of build up or crescendo. You know how we do.
As for performing it at the Theatre, well, Jeremy [our new bassist at the time] had really taken to it, and we'd started performing it enough at our recent residency at a local Athens club called Flicker, that it felt like one of our songs, to be honest. I think it has enough of our flava that we can get up there and play it every week and not feel like we're riding the coattails of a late great band to glory. Plus, it just sounded amazing in the Theatre. The final crescendo…when the horns hit it and Daniel and Jesse were crashing in on guitar…wow. It really filled up the room and was so dynamic that we felt it would stand out on the album. Because we recorded it with only two mics in that big, empty theatre, straight to tape, the song goes from a guy standing on a stage strumming away on a guitar to seven musicians sawing/hammering/blowing away on their instruments with abandon, everything on the verge of cacophony echoing of the Theatre walls. It sounds really BIG, and getting things to sound BIG, really BIG, expansive and wide BIG, not just four guitars distorted BIG, is a tough proposition. This one probably took the least amount of takes of any of 'em. When Andy played it back, we just kinda felt like we nailed it. It exceeded my expectations, and it's my favorite song on the record. Heck, it might be up there in the pantheon of favorite songs we've recorded."
Related: Diversions :: Dean Wareham/10 Albums That Inspired Galaxie 500
MP3: Venice Is Sinking :: Tugboat (Galaxie 500 Cover)
MP3: Venice Is Sinking :: Falls City
————————
+ Download Venice Is Sinking DRM free via eMusic's 35 free MP3 no risk trial offer
____________________________________________________________________________________