(Diversions, a recurring feature on Aquarium Drunkard, catches up with our favorite artists as they wax on subjects other than recording and performing.)
This week we catch up with The Deadly Syndrome whose sophomore LP, Nolens Volens, was self-released by the band last month. After the jump, Deadly Syndrome's William Etling and Jesse Hoy reflect on the misunderstood genius of comedy team Tim and Eric.
____________________________________________________________________________________
Tim & Eric's Theater of Magic:   The relationship between artist and audience has no singular definition. I feel each artist/act has to define what it's willing to do for or how much it is willing to interact with its audience. And to take that a bit further, how much does an artist want its fans to know about it's past? MORE SPECIFICALLY, how much of your truly awful early material do you want your audience to be privy to? Well, all that being said, one of my favorite Tim and Eric bits is a live performance from their band Theater of Magic (although the video titles it as The Tim Heidecker Masterpiece, so I guess I'm not exactly sure what the name of the band is). What makes this such a great video, aside from the song, is that it really is a snapshot of some super talented creative guys about to embark on hopefully an adult life of success. The video takes place in an apartment with Tim convincing the cops to let them play one more song, Eric dressed as a dragon playing the drums, and the lyric "bow down to the wizard in your mind." I could go on and destroy all of the perfect little nuances of the video by describing it to the time code, but I'd rather you watched it for yourself.
Whenever watching a comedy group, especially Tim and Eric, one of the first questions that pop into your head is, "what in the-who-the what huh, how do you come up with stuff like this??" Obviously only Tim, Eric and their production can answer that, but it becomes obvious after watching this video that these guys really couldn't do anything else, other than whatever it is they do. The long short of it is. As a member of their audience, it's pretty great that they allow us into their world before anyone even thought about Tom and a mayor. LA Guyz: This is exactly how it is living in Los Angeles.
A Short Essay by Will about Tim and Eric: Awesome Show, Great Job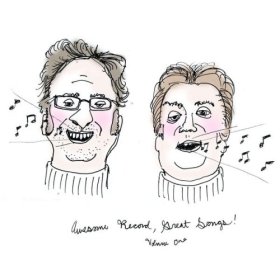 Jesse (my bandmate) has been asking me for two weeks to write down some thoughts about Tim Heidecker and Eric Wareheim's television program, Tim and Eric: Awesome Show, Great Job. I've been inexplicably ignoring his requests, and today I realized why: there is too much to say about Tim and Eric: Awesome Show, Great Job. It's overwhelming. Do I talk about Channel 5's Dr. Steve Brule? Do I discuss my favorite James Quall moments, or the finer points of David Liebe Hart's ventriloquy-based musical numbers? Every time I remember what I think is my favorite bit, another one pops into mind.
Someone once described to me the "relationship litmus test" that they used – they'd take their date to the Museum of Jurassic Technology in Culver City, and if the person didn't "get it," they weren't going to work out. Tim and Eric: Awesome Show, Great Job is an incredible litmus test. All four of us in the band appreciate the show, and if one of us didn't, things just wouldn't work. Chris was actually the first one of us to get into the show. He came to rehearsal one night and said "You've got to see this," and put on one of the Uncle Muscles/Casey Tatum musical numbers. Mike, Jesse and I were completely confused, and it took us another couple months before we really realized the genius of Tim and Eric. And it is truly genius.
There are too many incredible moments on the show to list, but I'm going to list some anyways. There's Grum, the crappily animated 3D character who stars in the feature length animated film, Pilgrums. There's CORBS (Cops on Recumbent Bikes), who meet an untimely end at the hands of ten AK-47 wielding Colombian drug lords. There's Michael J., the stuffed fox who (along with Zach Galafinakis) help nurse Tim back to health after he's attacked in the woods by a giant sasquatch. There's Steve Manahan's Child Clown Outlet, the Tiny Hats store ("Nice dolls – GREAT hats."), and all the products from Cinco Corporation (including the Cinco Phone with face-cooling gel, Cinco e-Trial, the Cinco eye-tanning solution, and Cigarette Juice.)
I'm not sure where Awesome Show, Great Job is going to go from here. They've already pushed the envelope pretty far when it comes to postmodern, ironic, referential humor. But as the world continues to spew out unnecessary, ill-conceived crap — and to rehash the same jokes and styles of comedy that can be sold to large, bland audiences — I hope Tim and Eric are always there to skewer it and put it in perspective. If more people approached life with the wonderfully distorted perspective of Tim and Eric, I think it'd be a happier place.
MP3: The Deadly Syndrome :: Wingwalker
————————
+ Download the Deadly Syndrome via eMusic's 35 free MP3 no risk trial offer
____________________________________________________________________________________