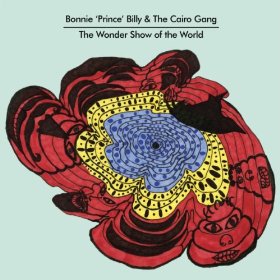 Will Oldham's career has more or less been a series of collaborations. His name is most often been attached to the work, and more times than not, he's the primary artistic driver behind the wheel. But he employs a shifting troupe of musicians whose influence is not lightly wielded. The result allows the consistency of Oldham's songwriting to diversify itself in ways that Oldham might struggle to find on his own. And Bonnie "Prince" Billy is the better for it.
Of course, that isn't intended to take away from Oldham's powerful ability to strike at the human spirit through verse. He's observations are both internal and external, self-deprecating and judgmental, heart heavy and head spun. Sometimes they're stories, fables or anecdotes with plots twists and players. Other times they're first-person confessionals. But through consistent delivery of these persistent themes, he's set an expectation with his audience that doesn't leave much to surprise lyrically, and any shifts that are there require some digging to be unearthed. Enter his cohort.
At times, they're supplying textures anonymously. Dave Pajo and Matt Sweeney, among others, were present on Ease Down the Road, but you'd only know it if you read the liner notes. Dawn McCarthy's voice was at the fore of The Letting Go, but her name wasn't. But as is Oldham's way, his collaborators often surface more conspicuously later on. Oldam paired with Pajo's Tortoise for The Brave and the Bold. McCarthy's name was attached to Wai Notes. And most remarkably, Sweeney collaborated on 2005's Superwolf, probably Oldham's finest record of the last 10 years, maybe even his career. In each instance, his collaborators had a noticeably larger influence on the mood of the records than they had as the Bonnie "Prince" Billy supporting cast. With that, Oldham has the ability to alter his records, to deliver upon the listener's expectation without the banal sameness it could potentially produce. He can write his songs, his way, but he can create something new.
The Wonder Show of the World is his latest nod to that, and this time Oldham benefits from Emmett Kelly's artistic involvement. The Cairo Gang headmaster had previously participated in Lie Down in the Light and The Letting Go (tops alongside Superwolf for Billy's best). And indeed, Wonder Show is probably most closely compared to Lie Down in the Light. They're both crisper sounds, slightly less drizzled than The Letting Go–the difference between viewing the world from a foggy window pane and a clear one. But Wonder Show is more economical in its composition. It's even and spare, wasting no space nor trying to fill it. Oldham's country-noir and psych-folk characteristics are largely eschewed. In their place is lighter fare like "The Sounds are Always Begging," something akin to pastoral folk. Add Kelly's occasional duet to those instrumental transfers, Oldham's lyrics take on a more personal approach. Where 2009's Beware was a group of townies in the public square (and where Kelly also contributed), this is a one-on-one in the comfort of home. We encounter tandem voices that linger for brief spells in "With Cornstalks or Among Them," intermittent silence briefly awaiting moments of guitar vibrato.
Ten fairly evenly matched songs don't find any necessarily standing out, but none falter either. (Still, there is a standout moment when the final minute of "Teach Me to Bear You" closes with a electric blues howl.) The real achievement here is Oldham's collaborative decision. As we've found, sometimes leaning on more heavily friends doesn't take away from Oldham's individual craftsmanship, it only enhances it. Good for Will Oldham and, this time around, good for Emmett Kelly. words/ j crosby
MP3: Bonnie "Prince" Billy :: Teach Me to Bear You
———————
+ Download Bonnie "Prince" Billy via eMusic's 35 free MP3 no risk trial offer
____________________________________________________________________________________