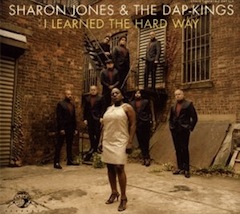 It's hard to know what will work and what won't, commercially, when it comes to influences. Critics are quick to call out a band for too closely appropriating a certain sound without adding much of its own originality, and when it comes to what Sharon Jones and the Dap-Kings are doing, it would be an easy criticism to launch. It would also be lazy and soulless as they are one of the most invigorating acts in America, from studio to stage, and are peerless channelers of the lost but not forgotten sound of 60s and 70s r&b and funk.
I Learned the Hard Way is the band's fourth full length and first in three years. The surprising thing might be that the album is more laid-back than one might expect from one of the most high-energy bands working today. Songs like "Better Things" coast along with the speed of a car down a summertime highway, and this pace repeats in "Give It Back" and "Window Shopping." The Dap-Kings are a nuanced band, and this is truly what makes them more than a simple novelty throwback. It's this detail of playing that shows how fully they embrace the influences they so lovingly recreate and also what makes their creations sound original, even in the light of comparison.
To say Sharon Jones is a powerful vocalist is an understatement, and she's on top of her game from the beginning. Album opener "The Game Gets Old" is one of the album's most fully realized pieces – from the backing vocals, flute, xylophones and strings on top of the Dap-Kings' sound to Jones' smoothly punctuated delivery. Every ounce of meaning is wrenched from her words, but not with the over-emotive delivery of some singers. She can turn from wounded lover to street-wise survivor ("Money") in an instant and still come off as wholly convincing.
A thrilling and warm record full of powerful moments, I Learned the Hard Way sounds immediately timeless, as if it were something released from a long-kept vault, yet emerging instantly engaged in its surroundings. words/ j neas
MP3: Sharon Jones And The Dap-Kings :: I Learned the Hard Way
MP3: Sharon Jones And The Dap-Kings :: Money
———————
+ Download Sharon Jones via eMusic's 35 free MP3 no risk trial offer
____________________________________________________________________________________