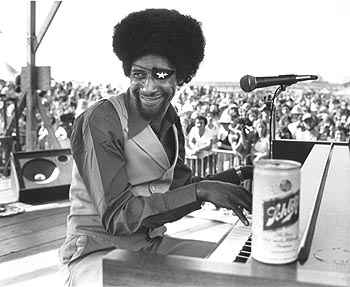 Ahoy there. I featured this rare 1978 live recording, from the Montreux Jazz Festival, on AD in October of 2005 as part of the original Live Upload Series. I suspect a good many of you were not following the blog way back then, so with New Orleans' Jazz Fest on the horizon I'm re-upping it here. I have several live "albums" from this New Orleans piano master, and Live @ Montreux is by far the best. Very raw arrangements with Booker backed by a loose pick-up band that just swings. Spiders on keys, indeed.
If you're unfamiliar with James Booker and/or traditional New Orleans piano-based music, this set, some Dr. John and a Professor Longhair collection are a fine introduction. I've long had an affinity for this stuff and will be posting some other choice, related, nuggets leading up to fest so stay tuned. Booker was the king—fucked up, yes—but the king nonetheless. Brilliant. If you can find it (as it's often out-of-print) read the Booker excerts in the Dr. John biography "Under a Hoodoo Moon." Wild/fascinating tales.
The below video of Booker performing "Papa Was A Rascal" is taken either from a French television performance from the same year – presumably from the same tour – or from the Montreux session itself. The exact date of the performance is up for debate among fans.
DOWNLOAD:
MP3: James Booker :: Medley: Pretty Baby/Winin' Boy Blues
MP3: James Booker :: Pixie
MP3: James Booker :: Medley: Penny Lane/I Saw Her Standing There
MP3: James Booker :: True
MP3: James Booker :: The Long Last Laugh
MP3: James Booker :: Junco Partner
MP3: James Booker :: Look What I've Got
MP3: James Booker :: Medley: Tipitina/The Grass Looks Greener
MP3: James Booker :: Papa Was A Rascal
MP3: James Booker :: Let's Make A Better World
————————
+ Download James Booker DRM free via eMusic's 35 free MP3 no risk trial offer
____________________________________________________________________________________