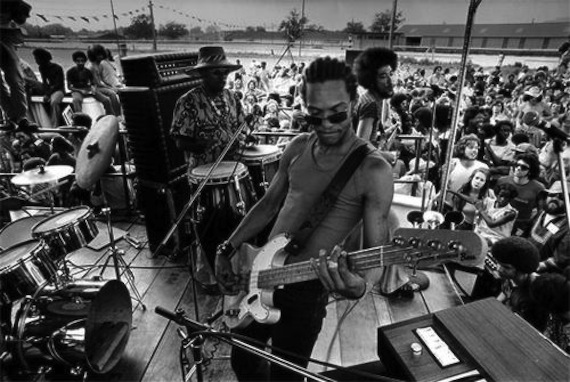 As promised, continuing with the New Orleans related posts during Jazz Fest, here are two Meters shows from 1977 that I've posted several times since 2005. Call it tradition.
I acquired the following 1977 Meters show in 2000 (along with the Showboat Lounge show further down the page) from a friend; both on CD-R. At the time—and this still may be the case—locating quality live documents from the bands heyday was no small feat. Actually, until a few years ago, even locating copies of their studio albums was an Indiana Jones-like undertaking, be it CD or vinyl. Now most decent record stores have the catalog on compact disc, and the better vinyl shops have the original reissues on hand. What I'm getting at is, if you're not already, now is a great time to become a Meters fan.
The below show was recorded in 1977, at the now defunct NYC club The Bottomline, and it is ome deep New Orleans funk & soul. And I do mean funk, this shit is greasy – gets right under your fingernails funky. Humid, hot, sticky grooves.
Download: The Meters Live @ The Bottomline – New York City, 1977 (Zipped Folder 101 MB)
The Meters :: Fire On The Bayou
The Meters :: Look-Ka Py Py
The Meters :: Africa
The Meters :: Doodle Oop
The Meters :: Meters Strut
The Meters :: Soul Island
The Meters :: Make It With You
The Meters :: Chug-a-Lug
The Meters :: Jungle Man
The Meters :: Ain't No Use
The Meters :: Hey Pocky Way
The Meters :: They All Asked You
————————
The following recording is culled from a 1977 New Orleans Live radio broadcast complete with a smokey-voiced DJ popping in and out during the duration of the show. Listening to it feels something like driving across Lake Pontchartrain after midnight with the windows rolled down.
Great banter from the band too. Several times throughout the show Art Neville speaks directly to the greater New Orleans radio audience, telling them to get with it and come on down to the show. The beginning of "People Say" is particularly nasty.
Download: The Meters Live @ The Showboat Lounge (Fat City), 1977 (Zipped Folder MB)
The Meters :: Just Kissed My Baby
The Meters :: Band Banter
The Meters :: Big Chief
The Meters :: Stage Banter
The Meters :: Jungleman
The Meters :: They All Ask'd For You
The Meters :: Hey Pocky Way
The Meters :: People Say
The Meters :: Ain't No Use —>
The Meters :: Po' Boy Jam —>
The Meters :: Ain't No Use
The Meters :: Feel Da Groove
————————