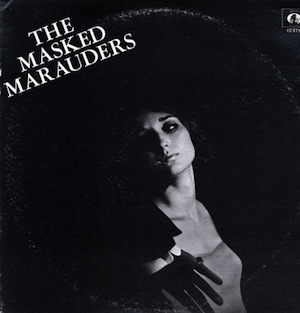 It's 1969. Rolling Stone magazine alludes to a mysterious super-group called the Masked Marauders comprised of John Lennon, Bob Dylan, Mick Jagger, Paul McCartney and George Harrison. The group is reportedly set to release an album, although sub rosa, produced by Al Kooper (himself hot off the success of Super Session). Sounds good, no?   Too good, as it turned out to be a hoax dreamed up by a young Greil Marcus. But the LP, released by Warner Brothers, still sells upwards of 100,000 copies. Four decades later, legacy intact, the Marauders album/hoax is firmly entrenched in rock & roll lore.
I've been thinking about the Marauders hoax a bit lately in light of all the "mystery artist" memes—in the guise of promotional emails, viral videos, etc—going around the past couple of months. Do they work? I have no idea, but people sure seemed to like the "leaked" Daft Punk track a few months ago…before it was outed as a fake. And the Marauders? The "band" was comprised of a group of professional studio session musicians.
Read the Snopes excerpt on the Marauders incident, below, and check out the Mick Jagger aping on "I Can't Get No Nookie" and the cover of the Cellos "Rang Tang Ding Dong (I Am The Japanese Sandman)." I told you there was a reason I was posting the original.
"The saga began when rock critic Greil Marcus (under the pseudonym of "T.M. Christian"), prompted by a recent Rolling Stone< article about sales of a double bootleg album of unreleased Bob Dylan material ("Great White Wonder," often cited as the first bootleg record) wrote a fictitious review of another "bootleg" album entitled "The Masked Marauders" for the 18 October 1969 issue of Rolling Stone.   The name "Masked Marauders" was supposedly a flimsy deception employed by Bob Dylan, Mick Jagger, John Lennon, Paul McCartney, George Harrison and others, all of whom had gotten together and recorded a "supergroup" album (allegedly produced by Al Kooper) that could not be released under their real names because they   were all under contract to different record companies.   Even though the "review" contained plenty of clues to indicate it was nothing more than a bit of humorous fun (e.g., the session was said to have been recorded "in a small town near the site of the original Hudson Bay Colony in Canada" and featured Paul McCartney singing "Mammy," Mick Jagger warbling "I Can't Get No Nookie," and Bob Dylan imitating Donovan), more than a few readers didn't get the put-on and went looking for the album at their local record stores." Continue reading at Snopes…
MP3: The Masked Marauders :: I Can't Get No Nookie
MP3: The Masked Marauders :: Rang Tang Ding Dong (I Am The Japanese Sandman)
———————–