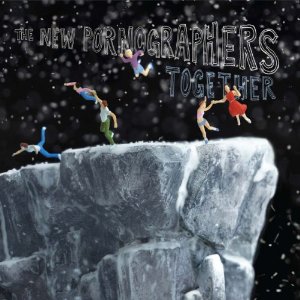 Four albums into their career as one of the most accidental of "super-groups," the New Pornographers seemed to have hit a bump. While Challengers was a solid record, it wasn't nearly the equal of its predecessor, the near-perfect Twin Cinema, and the interim between albums had seen masterful releases from both A.C. Newman and Dan Bejar's Destroyer and only a quasi-return to the fold for Neko Case who sat out most of Challengers. The result was a record that felt like far less than the sum of its parts and seemed, potentially, to spell an end. With all that great solo work, would the world really miss the New Pornographers if they just called it a day?
Together proves that the answer should be a resounding "yes." Not only are the songs stronger, but the whole album possesses a unity that the best New Pornos albums have always had in the past and places it on par with the recent external work of the members.
The record floors it from the outset with the string-tinctured "Moves," a jaunty, punctuated number that sets the tone for the record perfectly and is followed by the return of Neko Case in the dynamic "Crash Years," a song whose unabashed pop sensibility sparks memories of the debut album's "Letter From an Occupant." "Up in the Dark" ups the energy ante in the album's second half and the sparse "Valkyrie in the Roller Disco" sets up the closing spread of songs perfectly. Together's 12 songs seem ideally balanced and sequenced.
The guiding hand of the band has always seemed to be A.C. Newman's penchant for giddy and dense power pop. There's a subdued majesty to even his most full-tilt compositions, and when that aura covers the rest of the record as well, no matter the songwriter, it's usually a recipe for success. Dan Bejar's sprawling, literary compositions, at their best, play an excellent foil to Newman, but not when they stand in too sharp a relief. When they are corralled to fit the feel of the record, they are often the album's secret stand-out. "Silver Jenny Dollar" and "If You Can't See My Mirrors" are both examples of that; the former is a pounding anthem, the latter a wistful remembrancer and both are amongst Bejar's best for the band.
Together's title describes exactly what seemed to be missing from the last album – a sense of togetherness; with this record, all doubts are removed. words/ j neas
MP3: The New Pornographers :: Crash Years
MP3: The New Pornographers :: Your Hands (Together)
———————
+ Download The New Pornographers via eMusic's 35 free MP3 no risk trial offer
____________________________________________________________________________________