(Sevens, a recurring feature on Aquarium Drunkard, pays tribute to the art of the individual song.)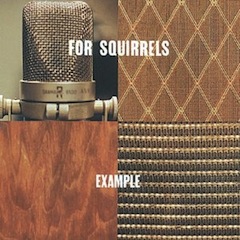 AD is spending the month of May looking at some one-hitters from the 90s; an age rife with overlooked "alternative" gems from the days of 120 Minutes and the just below-the-surface power-pop scene that was bursting with great music. Sevens takes a look at a handful of these singles.
For Squirrels' album Example was, musically, one of the sadder stories of the 90s. One month prior to the album's release, the band was returning to Gainesville, Florida from the CMJ music festival in New York when their van blew a tire. The van wrecked and founding members Jack Vigliatura (vocals, guitar) and Bill White (bass) were killed.
The lead single from the album was "Mighty K.C.," an interesting tribute to the then still recently late Kurt Cobain. The video was even more of a direct homage to both Cobain and the deceased members of the band and gathered decent play on both alt-rock radio and MTV.
For Squirrels sound dabbled all over the alternative rock soundscape but seemed most heavily influenced by the jangle rock of R.E.M. and the abrasive crunch of the post-grunge era. "Mighty K.C." could have, in a more subdued mode, fit onto Automatic for the People or even nestled snugly amongst Monster's odes to the early 90s. It's a mournful and hopeful song; disturbing images of "hair burned to the back" recall Cobain's method of suicide, but the chorus still effuses conviction that "things are going to change / in our favor." Sadly for For Squirrels, that day would never come. words/ j neas
MP3: For Squirrels :: Mighty K.C.
———————
+ Download For Squirrel's DRM free via eMusic's 35 free MP3 no risk trial offer
____________________________________________________________________________________