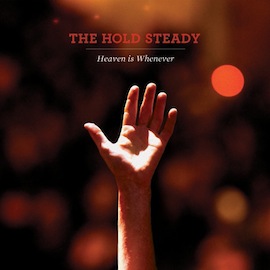 Killer parties almost killed The Hold Steady, but then they didn't. Hallelujah swept up the spotlight; she cleared the dust that kept coming up after all those killer parties. And then we all got up to have a real sad time together but it ended up being not all that sad; that killer party almost saved us, but it didn't, so we died. And when it all got bloody and we all fell down together, not even Joe Strummer could save us, and we all gently raised our hands like a party slowly dying. Lawd, we can't be innocent forever.
Writing about Heaven is Whenever, The Hold Steady's latest release, is difficult. On paper, it's pretty similar to 2008's Stay Positive: there are the trademark guitar chuggers ("Rock Problems," "The Weekenders," "Our Whole Lives"), the stone-cold ballad ("We Can Get Together"), and a pair of genre stretches (the bottleneck country of "The Sweet Part of the City" and the clarinet-bandied "Barely Breathing"). Craig Finn's about his usual business, referencing Minnesota and listing off the headliners from those all-ages hardcore matinee shows while conflating Catholicism, rock 'n' roll, and everday life. He's continuing to grow as a vocalist, and Tad Kubler's riffing and noodling is spreading even further, belying a greater range and aptitude for atmospherics than we might have previously given him credit for. But, but–and I've second-guessed myself on this many, many times now because it seems just so unlikely and borderline heretical–Heaven is Whenever at times lacks the vital spirit that has always made The Hold Steady so compelling.
It's a strange blank space at the base of things and it's hard to describe, particularly because the songs, when taken individually, are often as good as anything else they've ever written. "Our Whole Lives" bangs and rings with conviction, and "Soft in the Center'"s big-love chorus is maybe Finn's best bit of poetry yet. Even "Hurricane J," whose Top 40 backing vocals frightened me upon its release as a single into thinking that the group were going all Fountains of Wayne, has broken in and feels pretty good. In fact, Heaven is Whenever, when considered independent of The Hold Steady's discography, is an excellent, ambitious piece of pop rock, and it would be silly and hyperbolic and very Chicken Little to call it a disappointment. This I know, and I am reminded of it every time I listen to the record. The Hold Steady are growing artistically, becoming more nuanced, more subtle. Kubler's guitars are more shaded and often less out-front here, and Finn's mostly abandoned his sputtering story-songs in favor of poetically rich and thoughtful meditations, a lyrical direction hinted at on Stay Positive standout "Slapped Actress." But that nuance comes at the expanse of those verbose and detail-rich story songs and the towering structures the band built to support them, and while I'm happy to sing along with the group's newfound vocal melodies and rich harmony, there is and will probably always be a big part of me–and, I suspect, more than a few Hold Steady fans–that will miss the sprawl of words, the shouts from the party pit, and the rich street drama. I suspect that this is what it means to grow up; if the killer parties keep almost killing you, you eventually quit the killer parties.
Heaven is Whenever is a very good, and at times great, album. But it commits the essential crime of not being what we have come to think of as a Hold Steady album. It's the group's most mature record, both musically and lyrically, and as the giddiness of those killer parties begins to fade into the background of both life and lyric, it takes with it the ecstasy and hysteria of towering rock anthems. This is probably a good thing–I don't want Craig Finn to have to write about getting drunk in high school for the rest of his life–and if it feels awkward to say goodbye to that whole scene, we can at least see the promise of a good future.   words/ m garner
MP3: The Hold Steady :: Hurricane J
MP3: The Hold Steady :: The Weekenders
———————
+ Download The Hold Steady DRM free via eMusic's 35 free MP3 no risk trial offer
____________________________________________________________________________________