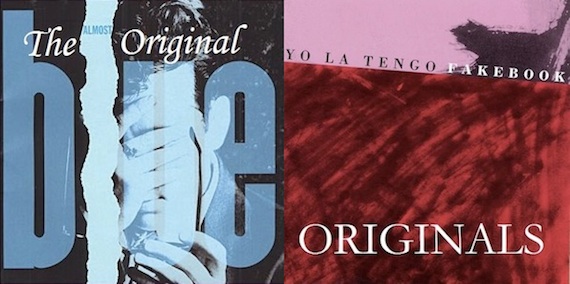 Last week, while discussing unofficial compilations, I suggested that readers share some if their favorites in the comments. In doing so I asked myself the same question. While a number come to mind, I want to highlight a set that was put together by the now defunct music blog Setting The Woods On Fire. In scope, the site—named after the great Hank Williams tune—focused on the glory days of old C&W and the disparate genres, and artists, it orbited (or vice versa).
A couple of years ago the blog featured two separate compilations: Almost Blue – The Originals, and Fakebook – The Originals. The two sets rounded up the songs covered on Almost Blue (1981) and Fakebook (1990) by Elvis Costello and Yo La Tengo, respectively. Besides acting as an interesting (and entertaining) exercise in the roots of two great albums, the two compilations,   juxtaposed side by side, also (unintentionally?) highlighted the similar places both Costello and YLT were in their careers at the time of each release. In 1981 Costello was far more well known for his acerbic post-punk wit and snarl than the multi-faceted artist he is today. The majority of his audience (at the time) seemed to have little use for an LPs worth of Nashville Country & Western. Likewise, in 1990, Yo La Tengo covering Cat Stevens, The Flying Burrito Brothers and Rex Garvin, was a far cry from the guitar histrionics off there previous catalog. Since then both artists have incorporated a wide variety of styles and influences into their work, but at the time of release both LPs were a sort of game changer.
The Fakebook compilation is pretty self-explanatory covering the aforementioned Cat Stevens, Rex Garvin, Burrito Brothers as well at Beat Happening, Gene Clark, Flamin' Groovies and others. The Almost Blue compilation rounds up its source material from both the artists specifically cited by Costello (as the inspiration) as well as those who also covered the material (re: Patsy Cline). Both compilations work on multiple levels whether your a fan of the covering artists or simply interested in the source material displayed under a new guise. As Setting The Woods On Fire is no longer active, the two sets can be found in zipped format after the jump.
Almost Blue – The Originals (zipped folder   48 MB)
Fakebook – The Originals (zipped folder 48 MB)
+ Download Yo La Tengo/ Elvis Costello via eMusic's 35 free MP3 no risk trial offer
____________________________________________________________________________________