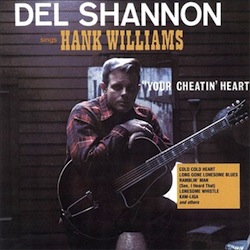 Sings Hank Williams began a string of excellent albums by Del Shannon that culminated with The Further Adventures of Charles Westover from 1968. Not only is this a great country album but many consider this one of the best records from the time. This disc was released in 1964 and predated the country-rock boom by a good 4 or 5 years. That alone makes it a significant release and a must listen for fans of early country-rock. But it's Del's performances and the group's backing that make this a special show.
Throughout Shannon's career he had reinvented himself many times over. In the early 60s he was a teen idol with the unforgettable hit "Runaway." "Total Commitment" and "This Is My Bag," both mid 60s records, saw Del turn in two fine roots rock efforts. From 1967 to 1968 Shannon did the unthinkable: he went psychedelic, with two great, unsung records, 67's And The Music Plays On and 68's Charles Westover. During this time he proved that an early 60s rocker could survive into the late 60s' experimental environment and still make great albums with artistic value. An amazing career no doubt, but who would have ever expected Shannon to release a hard core country album?
Shannon and his group give "Kaw-Liga" an updated, swinging rock n roll feel. "That Lonesome Whistle," possibly my favorite cut on the album, is a superb down and out country track with fantastic vocals – a real young man's blues. The arrangements are very basic, with steel guitar leading the way – just listen to the great version of "Your Cheatin' Heart" which opens the disc. "Ramblin' Man," another gem, is given Del's soaring, minor key vocal treatment. There was a reason for the sparse, simple arrangements: Del was trying to capture the mood of Hank Williams' original band, The Drifting Cowboys. Even more interesting is Del Shannon's group, many of whom, such as Dennis Coffey, were well known Motown session players.
Del sang his ass off on this recording, giving us performances full of faith and honesty. So in this respect it was a shame that nobody was listening. Neither the rock n roll community or C&W crowd took a liking to this album. It was probably lost amongst albums by the Beatles and Rolling Stones during the first wave of the British Invasion. Sings Hank Williams is stripped down, raw and genuine. There are none of the hokey strings or sappy arrangements that plagued so many country records from this period. This is a great record that shows the true artistry of Del Shannon. words/ j nardelli
MP3: Del Shannon :: Kaw-Liga
MP3: Del Shannon :: That Lonesome Whistle
———————
+ Download Sings Hank Williams free via eMusic's 35 free MP3 no risk trial offer
____________________________________________________________________________________