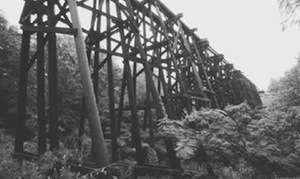 The weather in Austin during SXSW is typically in the 80s, and this year was no different–until the final day; on Saturday it dropped to a high of 38 degrees. No one was dressed/prepared for it. After four days of running around Austin I decided to spend the majority of my afternoon camped out at 40 Watt party catching up with old friends and seeing music. One the bands I caught during the beginning of the day was Gift Horse. Performing on the sidestage, outside, the cold only seemed to fortify the band as they bashed through thirty-plus minutes of damaged sludge-rock.
On the heels of their new LP, Mountain of Youth, we caught up with the trio as they reflect on their hometown of Athens, GA's rich, and varied, musical legacy.
(Diversions, a recurring feature on Aquarium Drunkard, catches up with our favorite artists as they wax on subjects other than recording and performing.)
Hunter: I can't wait to reevaluate the history of the Athens music scene 10, 15, 20 years from now, because I think there is music coming out of here right now that is going to truly hold it's own as a chapter in this amazing story. With a history like Athens has, just making a mark is quite an accomplishment. In my years in Athens, I've heard plenty of talk of how nothing can ever take this scene back to the way it was way back when in the glory days. And I think that anyone with that attitude is missing the point entirely. None of the post R.E.M./B-52s/Pylon bands have ever tried to outdo or recreate anything. The ones who have really worked their asses off and really struggled have done it and are doing it just to hopefully make a tiny contribution to this one giant entity that is Athens, GA.
Probably my favorite record of this year so far is Gray Waves by our good friends, Twin Tigers. I would never say that just because they're my friends…it's just a really great record that just happens to have been recorded by another Athens band. Dead Confederate is such an amazing band that, even after seeing them play literally hundreds of times, I still look forward to every single show. Even when we play with them, I go back out and watch their entire set from the audience because it's so powerful. The Whigs played at the 40 Watt the other night…they were just off playing "Letterman" and preparing for a world tour, so whatever…another show right? But this is Athens dammit, and they absolutely killed it! I've rarely seen a show more driven by an obvious hometown vibe. They probably would have played until 5 A.M. if they could've. My friend Nate Nelson can make a hundred drunk people in the Caledonia Lounge be completely silent through a 5 minute song with just him and a guitar because everybody knows it means something. There's this rocking alt-country band called Futurebirds and this noise-rock trio called Bambara and this loud-as-shit rock band called Pride Parade and this monster of an instrumental band called A.Armada that all play music that is completely different, but I love all these bands for the same reason: every show they play they leave everything they've got on the stage.
The more I think about it, the more I realize there's one common bond shared by all of these Athens bands…they all actually have something to say. Maybe that's why R.E.M. and Pylon and Neutral Milk Hotel and Vic Chesnutt and Widespread Panic and have made such an impact on the musical world. Of Montreal and The Drive By Truckers haven't carried the Athens torch the last several years because they just showed up at the right time, you know? The Glands didn't make an incredible record because they were bored. People here make music that really, really matters to them. So often, we play with bands in other cities that are pretty good, but I have a hard time getting into their songs because all I can think about the whole set is "Does this really mean anything to you?" I'm looking at some dudes dancing around the stage who are obviously in a band because they want to be a part of a scene or need an excuse to get drunk or whatever. But I can usually avoid that problem in Athens. All of these great Athens bands make music because they have something to say and because they LOVE music.
And it's really comforting to look out over my beer when we have a fish-fry or a cook-out or some other redneck Athens gathering and realize that all of my friends also happen to be my favorite musicians.
Mike: I moved to Athens in 2004 from Augusta, GA. Growing up in Augusta, I was already pretty familiar with the city because a lot of my family are UGA alumni, so I spent plenty of time here growing up. Like so many kids in Athens I moved up under the guise of going to school, but really my sole purpose was to join a band and play music. I moved into a shitty 100 year old house out by the airport with Hunter. The floor sagged and caved in. We drank keg beer and threw ridiculous parties. There were dead mice everywhere. We played pretty terrible music at the time, but we loved every bit of it. I graduated, we moved to many different band houses around town, and then we started to meet some of the other bands that we are still good friends with now. The music started to get WAY better and we got more serious about it. And every time I hear something about "the way Athens used to be" back in the 80's, all I can think is that it's probably exactly the same as it is now: the kids (and the not-kids like us) are still having a blast playing music, the parties are still ridiculous, dead mouse babies are still everywhere. But we aren't the first people to do it. If you lived in Athens in the 1980's and hung out with R.E.M., Pylon, The B-52's, Vic, Widespread Panic etc. know that Gift Horse, Twin Tigers, Dead Confederate, The Whigs, Bambara, Futurebirds and many others are still gratefully trying to follow in your footsteps.
Vaughan: In the summer of1991 my family moved from Clarkesville TN after my dad got out of the military, and relocated to a small mill town called Burlington, NC. Since we moved during the summer of 91, my older brother and I had a hard time making friends in the neighborhood, so we stuck to each other like glue, messing around with a guitar we found during the move. Around this time my older brother Chris acquired a cassette tape with the single "Losing my Religion" by a band called R.E.M. I have no idea where he got this tape from, and neither does he. We would spend hours a day that summer immersed in that single by R.E.M. We would take our shirts off and put bandanas on our heads and hang out in the bathroom like it was a backstage area. Then we would go into his room, and I would get behind the "kit" (really a stack of moving boxes and some yellow fisher price drumsticks). My brother Chris would be on guitar singing into a toy microphone taped to a broom.. We would play along with "Losing My Religion" singing the words (or what we thought were the words) with all of our hearts. When that summer had come and gone my brother and I were total music junkies. Over the next few years I forgot about R.E.M. and listened to tons of shitty music like most kids do. Little did I know that I would one day get the chance to live and play music in that secret garden called Athens, Georgia. I feel like Athens attracts kindred souls. Athens attracts people looking for something different, fun, and passionate. I haven't seen much of the world, but from what I have seen, there is no place with as much passion as Athens, Georgia. There is so much passion in this small southern town, you can feel it, feed off of it and regurgitate it. Stroll through almost any neighborhood around dusk, and you will hear the faint sounds of music filling the air They say that the heyday of R.E.M. and the B52's has gone. But the passion of those bands and others like Pylon, The Squalls, Vic Chesnutt, and Flat Duo Jets created in those early years of this town and "scene" continues to reverberate in all of us that live here and make music here today. The town is alive and well, an ever-growing beast, a piece of art that is never quite finished. Athens is my home and I love it.
Gift Horse – Mountain of Youth
+ Download Gift Horse DRM free via eMusic's 35 free MP3 no risk trial offer
____________________________________________________________________________________