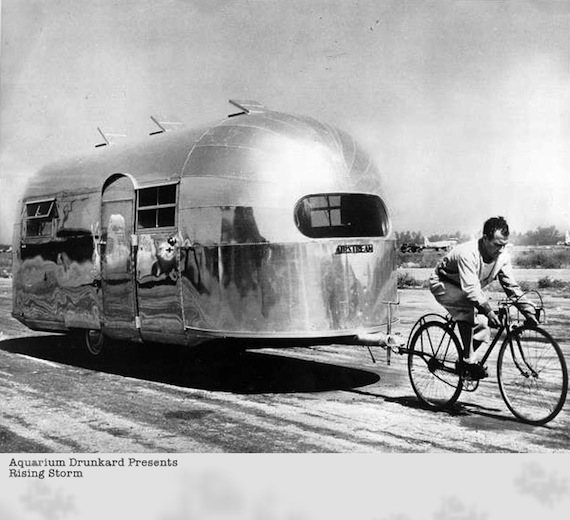 Welcome to the fourth installment in a series in which I highlight some of my favorite voices online and beyond. Thus far we've featured sets by Raven Sings The Blues, Ponytone, Turquoise Wisdom and Cold Splinters.   Next up: The Rising Storm. Long before the blog's founder, Brendan McGrath, was a regular AD contributor, we bonded over a shared appreciation of obscure, forgotten and out of print sonic relics. Not surprisingly, today's mixtape sounds like something you might hear drifting out of a transistor radio while marooned at an out-of-the-way highway roadhouse. Just the way we like 'em.
Catch McGrath's guest DJ set this Friday during the second hour of my radio show. Grab this mix below and bookmark his site.
After the jump… The Rising Storm – A Mixtape.
____________________________________________________________________________________
Download: Aquarium Drunkard Presents :: The Rising Storm – A Mixtape (zipped folder 85MB)
Side A:
Intro
Townes Van Zandt – Where I Lead Me
McGuinness Flint – When I'm Dead And Gone
The Kinks – Wait Til The Summer Comes Along
Karen Dalton (w/ Fred Neil) – Little Bit of Rain
Taj Mahal – Wild Ox Moan (Excerpt)
Taj Mahal – Farther On Down The Road
Link Wray – God Out West
Side B:
Os Mutantes – Bat Mucumba
The Rising Storm – Bright Lit Blue Skies
The Beach Boys – Passing By
Don Covay – Everything's Gonna be Everything
Bob Martin – Captain Jesus
Jerry Jeff Walker – Her Good Loving Grace
Doug Sahm And Band – Blues Stay Away From Me
Cap'n Jack – If I Never Touch You (excerpt w/ Storm Effects)
Still Fresh:
:: Aquarium Drunkard Presents :: Cold Splinters, A Mixtape
:: Aquarium Drunkard Presents :: Turquoise Wisdom — A Mixtape
:: Aquarium Drunkard Presents :: Ponytone: A Cross-Cultural Mixtape
:: Aquarium Drunkard Presents :: Raven Sings The Blues — A Mixtape
+ Download DRM free music via eMusic's 35 free MP3 no risk trial offer
____________________________________________________________________________________