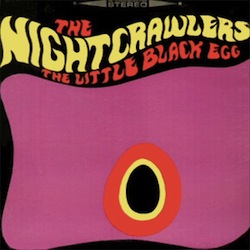 What the Hell is that little black egg all about!? I'm still not sure, but ever since that jangly mess of a song got permanently stuck in my head, I've found myself wanting one too. If that egg's anything like the tune, then it must be something good. It was certainly good enough to crack the billboard charts and secure The Nightcrawlers a spot in that pantheon of garage bands (along with the Syndicate of Sound and The Choir) with nothing more to offer than one remarkable song.
Well I'm glad to say that ain't the case. With any of those bands. And especially Florida's The Nightcrawlers, who were kind enough to leave behind a whole album of equally deranged folky-garage songs. Big Beat's reissue of The Little Black Egg LP adds some fine bonus cuts that are sure to please both 60s punk and folk-rock fans alike. When they're not bashing your head in with harmony laced stompers ("I Don't Remember" "Who Knows"), they slip into a plaintive mood and climb quietly up and down a minor chord ("The Last Ship"). Perhaps the finest cut is the jangle-punk gem "Basket of Flowers" which sounds something like the early Turtles being pulverized in The Swamp Rats' blender. Charlie Conlon's often inscrutable lyrics and ability to chameleon his vocals to fit the songs gives the album a unique edge, making it stick out from the crowd like a priest in a strip club. A feat that very few mid-60s bands were able to pull off.
All this is enough to qualify LBE as an underappreciated classic, but what they should really be revered for is leaving us utterly devastated with what has to be one of the saddest songs ever recorded, "If You Want My Love". This one could even give the almighty Hank Sr. a run for his money in the broken heart department. Prepare to be torn apart by slow, eerie guitars, sparse percussion and agony-laden lyrics: "My heart it was broken when you said…If you want my love, you have to die for it. And maybe, just maybe, you'll be mine." Maybe? Damn, it doesn't get much harsher than that.
The album was reissued on CD by Big Beat (Ace) with some great unreleased cuts along with some less charming Brit R&B imitations. The extensive liner notes feature an oral history by members of the band that may shed some light on the mystery of that damn egg. Read it and find out.   words/ stranger
MP3: The Nightcrawlers :: Basket of Flowers
MP3: The Nightcrawlers :: If You Want My Love
Only the good shit. Aquarium Drunkard is powered by our patrons. Keep the servers humming and help us continue doing it by pledging your support via our Patreon page.