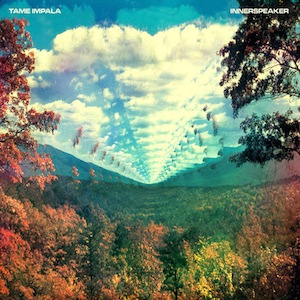 Psychedelic music typically references an out-of-body experience. Dungen are masters of the genre, so were Cream and The Beatles, and all of these bands will certainly creep up as Innerspeaker massages your sense of hearing. Hell, even vocalist/guitarist Kevin Parker's voice sounds so naturally close to John Lennon. But there's more being explored here beyond the band's peers, hallucinogenic panning and weed references. Themes of love and loss, crawling away from it and second-guessing the decisions that underlie break-ups are all laid out on the table.
"Everything you ever told me could have been a lie, we may never have been in love." That's the opening line from the syncopated and swift space-jam "Expectation". Parker's woes are growing tiresome as the song marches along, and even the aggressive drumming sounds like it's pointing a finger at someone. We've all experienced these emotions — spending way too much time dissecting and over-analyzing the death of a relationship. But eventually we move on and use music as our escape. Tame Impala have simply created their own catchy vision of it.
Parker's emotional sentiments are abundant from start to finish, but what lingers even more is Tame Impala's engulfing sound and spellbinding use of effects. Lyrics are dipped in oceans of reverb and echo, the guitar riffs are memorable with pitch-shifting octaves that at times sound like trumpets crying, and the drumming…absolutely stellar. No hazy forgetfulness or sludgy studio mixes hiding poor tonality or average songwriting. Innerspeaker flows like one giant wave — optimistic, honest and free. This is modern-day classic rock and psych rolled into one cohesive album for a new generation of kids, and parents who won't let go of their old Clapton records.
Taken from the band's self-titled EP, "Desire Be, Desire Go" reminds us where the band started, but our introduction to these youngsters from Perth, Australia really begins with the following track "Alter Ego". It's the moment where Tame Impala leave Earth and introduce Innerspeaker's signature multi-octave guitar leads. "Why Won't You Make Up Your Mind" and the seven-minute trip "Runway, Houses, City, Clouds" both offer even more captivating examples by trading fuzzed out blues scales in favor of lazer-guided melodies. And finally, there's the mind-blowing single "Solitude is Bliss". Set against shuffling drums and swirling guitar chords, Parker's delivery is consistently casual until that soaring chorus line hits, "You will never come close to how I feel". It's the most compelling moment on the entire album.
Formulas are often thought of as a crutch in music, but it can also set a template that educates and inspires us to dig deeper into an artist's work. When you first listen to Innerspeaker it's going to feel indulgent and formulaic at times. But ignore the stereotypes that psychedelic music can evoke and focus on the brilliant drumming and guitar solo work on "Expectation" or the simple fuzz-rock melodies on "Lucidity". This is a band that directs your attention to the classics yet always sounds as if they're moving into the future. words/ s mcdonald
MP3: Tame Impala :: Island Walking
———————
+ Download Tame Impala DRM free via eMusic's 35 free MP3 no risk trial offer
____________________________________________________________________________________