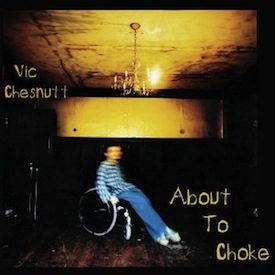 The opening line of Vic Chesnutt's About to Choke is about as apt a self description as one could ask for from a writer: "A funny pilgrim on a crazy crusade." And whether this was meant to be referential to Chesnutt's life on the whole or merely his then recent plunge into the upper echelons of major label recording, it feels only too appropriate on the whole.
About to Choke was released in 1996 on the heels of the attention-garnering Sweet Relief II benefit album that thrust Chesnutt's songwriting into the spotlight. It was the perfect album to release at the time, an amalgam of his strengths as a songwriter: rare delivery; self-deprecating and wry, sometimes silly humor; and his devastating turns of phrase. On June 15th, Plain Recordings will reissue the album on CD and 180 gram vinyl and as the first Chesnutt album to see any sort of reissue following his death in December of last year, it feels wholly appropriate in that role. It depicts him at one of his peaks as a writer of character and scene sketches, but also in his long struggle with depression in its haunting back half and themes of separation and decay.
The first half of the album is a fairly low key affair with the maudlin "Myrtle" and its evocation of the narrator as being "like a sick child dragged by a donkey through the myrtle" opening the record. "New Town" and "Tarragon" are both among Chesnutt's finest sketches – from the former's description of a new town (or perhaps the Athens, GA neighborhood New Town) that both "reeks of lumber" and where "even the loneliest old ladies get social calls" and the latter's "anonymous Adonis." "Tarragon" is one of many examples of Chesnutt's deft phrasing and unique word choices that in the hands of another singer would be obnoxious and a turn-off. "Little Vacation" is another example – where phrases like "why don't we have a little symposium" and references to Robert's Rules of Order co-mingle over music that sounds like it resulted from someone bumping the 'demo' button on a keyboard. It's a rare gift that Chesnutt had – a lot of words don't sound natural when they are sung. For Vic, words like that didn't seem to exist.
That silliness leads into the album's darker second half – and honestly, without these songs, the album wouldn't carry any sense of gravity. Whether it was because of his new levels of fame or anything else, the theme of dissolution rears up in songs like "Degenerate," possibly the album's finest song, and in "Threads" where the narrator is "watching the threads disintegrate, crumbling like the lawn art you made." Emotional separation, too, appears in "Hot Seat" with its images of ineffectual communication ("I touch the telephone, it falls away") and the narrator "sweating it out" in the title object. The gorgeous closer, "See You Around," repeats the mantra that the narrator was "never fond of the niceties" before gingerly telling someone that he'll "see you around." It's a haunting and melancholic way to close the record, but in the wake of the back half's weight, it serves as a redeeming touch of acceptance.
When Chesnutt sings "remain in the ruckus and you will get scraped" in the closing lines of "Threads," he seems to be acknowledging the rub of life. He closes About to Choke with the far away echo of a line from album opener "Myrtle": "I'm not an optimist. I'm not a realist. I might be a sub-realist." It seems to accept his place as a dreamer – ultimately one that would decide the 'scrapes' of life to be too much – but for the time being, Chesnutt seemed to find sad comfort in knowing it was the true self he had found. words/ j neas
MP3: Vic Chesnutt :: New Town
MP3: Vic Chesnutt :: Threads
———————