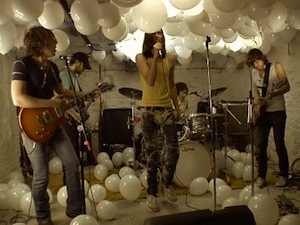 Dust off your glitter and tuck your hair behind your ears, Free Energy is here and their hubcap diamond stars are polished and ready to cruise. The Philly-via-MN quintet's Stuck on Nothing is pure, irony-free, big-smile rock 'n' roll for the summertime, filling up the middle spaces between boogie and glam and power pop: the glossed-up stuff that soundtracks last day of school montages, beer busts, and baseball games. Reads awful, sounds wonderful.
They're maybe a touch too big city to be suburban radio rockers but way too scruffy to be Spiders From Mars, and in that way are something of a mirror of their adopted city; they chop out riffs like the Flyers do ankles, twirl high on melodramatic strings like Rocky punching in. The Midwesterners have picked up some of the Philly grit and pomp heard in bands like Man Man and Dr. Dog, but all the pounding here is subservient to the pop gloss.
It's only rock 'n' roll, and so influences are unavoidable. There are touches of Big Star's shine, Thin Lizzy's twin leads, and Left Coast harmonies, but the saint stuck on Free Energy's dashboard is Marc Bolan. The T. Rex mastermind flashes all over the subsurfaces of the record, from the thump-pah drumming to the waxing and waning saxes and strings spread across the platform; "Dream City" pops like a post-Weezer "Mambo Sun" while the production, courtesy of LCD Soundsystem mastermind James Murphy, shines in the glossy AM radio light. Given his predilection towards earnest regret, Murphy seems on the outset like an odd match, but his minor-key flourishes provide a fitting counter to the comedowns of "Bad Stuff;" if nothing else, it's a reminder that Murphy was a presence at the parties that're now bringing him down, and that there must be another side to the wild teenage starships.
But no, forget all that. Stuck on Nothing is social music, pre-Internet music, made for car stereos and parking lots and dudes who still call themselves dudes. Sure, it can't last, and Free Energy are old enough to know that. But for right now–let's say for this summer–let's not worry about it. Let's not get stuck up on all that. For now, bang a gong, turn it up, slam your locker, and shout it out loud. words/ m garner
MP3: Free Energy :: Dream City
————————
+ Download Free Energy via eMusic's 35 free MP3 no risk trial offer
____________________________________________________________________________________