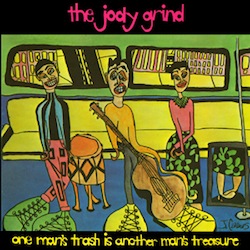 Prior to my buying into the heathen bargain that is Los Angeles, ye olde Drunkard grew up in the wooded enclave that is Atlanta, GA. Recently, through the magic of eMusic, bit torrent and the like, I have been revisiting albums by artists that I long sold off, in the mid-late 90s, in an effort to pay off various and sundry bartabs, gambling debts, etc. Not surprisingly I have come to learn that most, if not all, of those old Atlanta bands recordings are long out-of-print (some even digitally). For shame.
So, over the next couple of months, expect entries on Cabbagetown favorites the Rock*A*Teens, Smoke, the Jody Grind, Deacon Lunchbox and other weird and forgotten, outsider, outfits that haunted the deep South and Redneck Underground of Atlanta during the nineties. Caveat emptor: I imagine these tales will reside somewhere on a plane between fact, fiction and half-remembered anecdotes.
In 2010 the Jody Grind are mostly a footnote in vocalist/songwriter Kelly Hogan's biography. But this wasn't always the case. Early on, long before her move to Chicago, in the beginning of the last decade of the twentieth century, the Jody Grind were one of the more buzzed about independent groups to come out of Atlanta. I bought their debut, One Man's Trash Is Another Man's Treasure, at their merch table around 1990, at a gig with the Ellen James Society. I was 15 — my friends and I had heard Michael Stipe was a fan and, this being the South an hour from Athens, we all worshiped at the feet of R.E.M. While I didn't see Stipe at the show I did see a band that, in the span of their set, touched upon country, swing, lounge jazz, blues and, of course, what was then described as college rock. But underneath, or rather within that mash of sound, is Hogan's voice. A truly gifted singer, Hogan's vocals approximate that of a chameleon; her instrument bending and shaping the mood of each piece—from torch songs and honky tonk to pop, garage rock stomp and beyond.
This amalgamation of sound and style was key on both One Man's Trash and, to a different degree, its follow-up, Lefty's Deceiver. Very straightforward, quaint in the way of, say, Cowboy Junkies, the albums hold up. The sad part of this story is that tragedy struck the group shortly after the release of Deceiver—an auto accident taking the lives of one half of the band. Hogan and Taft survived and will figure into the next couple of posts in this Atlanta series. Until then, check out "Eight-Ball" off Trash, and "3rd of July' from it's follow up. Go Braves.
MP3: The Jody Grind :: Eight-Ball
MP3: The Jody Grind :: 3rd of July
Only the good shit. Aquarium Drunkard is powered by our patrons. Keep the servers humming and help us continue doing it by pledging your support via our Patreon page.