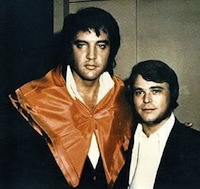 While I surely recommended inspecting the whole of the Shangri-La mixtape, I do want to highlight one track in particular: Wayne Jackson's "It Happened In Tennessee." I first caught wind of this track (Wayne's sole vocal performance no less) through one of Oxford American's southern music samplers.
While the trials and tribulations of Sheriff Buford Pusser have been told, and retold, through throughout the years—both through song and the silver screen—(most recently on the Drive-By Truckers Dirty South LP), Wayne's tale is up there with the best. The vocal clip of Pusser at the song's tail end serves as the icing on the cake.
That's Wayne, in Memphis, with the King. Pretty natty looking cape, too, no?
MP3: Wayne Jackson :: It Happened In Tennessee, Pt 2
———————
+ Download DRM free music via eMusic's 35 free MP3 no risk trial offer
____________________________________________________________________________________