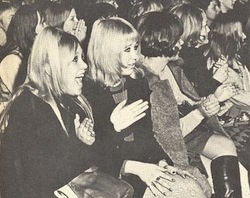 Ahoy there, J. Neas here. AD is once again heading to the Pitchfork Fest at Union Park in Chicago later this week. I'll be posting daily recaps of the previous day's festivities here on AD as well as updating my personal Twitter account during the day. No promises that you won't have to read the occasional tweet about lines at port-o-johns, but for the most part it'll be live tweet reactions to the artists on stage and anything else awesome that goes down. Below are a handful of the bands I'm most looking forward to catching if you're looking to stalk and/or buy me beers.
Once again, the opening day of the festival changes its focus. This year the festival goes back to a more traditional opening day lineup with an earlier start on Friday (3:30 PM CST). No gimmicks this year (like last year's Write the Night fan requests or previous years' Don't Look Back-style complete album performances), but Friday does include a first: stand-up comedians. I'm especially looking forward to The Daily Show's Wyatt Cenac (6:30 PM), The State/Stella member Michael Showalter (7:15 PM) and the incomparable Eugene Mirman (8:00 PM). In the realm of music, Tallest Man on Earth (4:00 PM) gets the festival off to a great start early on, but he's sure to get some noise competition quickly as El-P (4:35 PM) takes his awesome show to the stage. It's been a number of years since I last saw El-Producto, but he was an amazing performer then and no doubt now. The always intriguing Liars (5:30 PM) go on to give a nice pre-dinner performance for people and, for dessert, Broken Social Scene (7:20 PM). The night's headliner is Modest Mouse (8:30 PM), a band that I have never seen live, so am greatly looking forward to finally catching.
Saturday gets started at 1:00 PM with a band no stranger to AD, Free Energy. One of the best bands to emerge from New Jersey in awhile, Real Estate (1:45 PM), comes out swinging in the afternoon. So does Kurt Vile (2:50 PM), the tail end of whose set will draw some competition from Titus Andronicus (3:20 PM). The Wu-Tang Clan's Raekwon (4:15 PM) inhabits the afternoon hip-hop slot held by Pharoahe Monch last year and will no doubt keep energy high. More bands no strangers to the pages of AD and the Sirius radio show are the Smith Westerns (4:45 PM) and Blues Explosion (5:15 PM). The creators of my second favorite album of 2009, Bear in Heaven, (6:45 PM) come out in the late evening to turn us all into a wholehearted mess, no doubt. Animal Collective's Panda Bear (7:25 PM) and the thrilling LCD Soundsystem (8:30 PM) are the big closers I'm most looking forward to catching as well.
Sunday is no slouch either, again starting at 1:00 PM. Here We Go Magic (1:45 PM) and Best Coast (1:55 PM) go nearly head to head, but it'll probably be the latter that wins out for me. I want to hear "Boyfriend" live so badly. Girls (2:30 PM) come quickly afterward and so do Beach House (3:20 PM) and Local Natives (3:45 PM), guaranteeing an afternoon of moving around from stage to stage. The awesome Surfer Blood (4:45 PM) will have its tail end run up against St. Vincent (5:15 PM) in another case of me being called away from the end of one band to see another I really want to catch. Major Lazer (6:15 PM) is bound to be a hoot, as long as they don't recreate those videos in a live setting. The biggest hip-hop performer of the weekend is, without question, Outkast's Big Boi (7:25 PM) performing stuff from his banging new solo record. He'll be going up against the very hyped Sleigh Bells (7:40 PM) in what will no doubt be a tough decision for folks. Finally, the band I'm most looking forward to as I've never seen them live, the reunited Pavement (8:30 PM) close down the final night of the festival in what is bound to be a thrilling experience.
As noted last year, the variety of artists (and reasonably priced tickets) continue to make the fest not only one of the best overall festivals of the summer, but certainly the best bang for your buck as well. Unlike a lot of festivals the stages are well laid out so that it's not hard to move efficiently from stage to stage and (equally important) is also well timed so that you don't have to fully sacrifice seeing one band for another. You could easily take in parts of sets from every band on the schedule with no major running around. So, see you guys in the Chi-city – look for updates here on AD and on my personal Twitter account. words/ j neas
+ Download DRM free music via eMusic's 35 free MP3 no risk trial offer
____________________________________________________________________________________