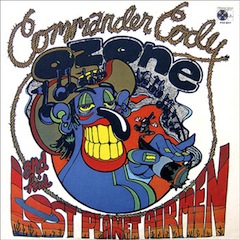 Certainly one of the classic country-rock records, Lost In The Ozone was Commander Cody's first disc released back in 1971 (MCA). The original group formed sometime around 1967 in Ann Arbor, Michigan. Eventually they would relocate to San Fransisco and become a major live phenomenon. The group were led by pianist George Frayne (Commander Cody), vocalist/harp player Billy C. Farlowe, pedal steel player Don Bolton and lead guitarist John Tichy. At the time of the above debut other members included were guitarist Billy Kirchen, drummer Lance Dickerson, bassist Bruce Barlow and fiddle/saxophone player Andy Stein.
Lost In The Ozone was recorded during Commander Cody's peak, which began in the late 60s and carried over til about 1976. During this period they gave the rock community many legendary live performances and left behind a handful of classic studio recordings. This debut sounded like nothing else in 1971, freewheeling, full of humor, great performances (some fine steel playing) and that special something that only comes around every so often, honesty. Included on the lp is their classic top 10 hit "Hot Rod Lincoln", an outlaw anthem that's still played on radio today and a song that has stood the test of time remarkably well. Cody's strong point was melding old fashion 50s rock n roll with the emerging outlaw sound. By doing this they came up with a unique fusion of roots, country, soul and rock, a sound that became all their own.
The album is full of strong moments, whether it be group originals or well chosen covers. "Midnight Shift," sounds like a vintage Gene Vincent rockabilly side while the humorous title track became an anthem of sorts for the Airmen. Slow weepers "Seeds and Stems Again", "Family Bible", "Wine Do Yer Stuff" and "Daddy's Gonna Treat You Right" are all Commander Cody classics that will give any other country-rock group a run for their money. The last three tracks of the album are live numbers in good fidelity showing the group in top form with their patent country-swing sound intact – "What's The Matter Now" is a highlight in this respect.
A neglected gem from the early 70s, Lost In The Ozone has a reckless, ramshackle feel that's hard to describe to newcomers but still a very warm, friendly record that will not alienate its listeners. The Airmen had more punch and style than some of the more popular or critically acclaimed groups of the era. Their appeal was wide, rednecks, hipsters and hippies could relate to the Airmen's music and their live shows were always a major production. If you're into sounds like the Sir Douglas Quintet or Shiva's Headband you need to check these guys out. words/ j nardelli
MP3: Commander Cody :: Seeds And Stems Again
MP3: Commander Cody :: Daddy's Gonna Treat You Right
———————
+ Download Commander Cody via eMusic's 35 free MP3 no risk trial offer
____________________________________________________________________________________