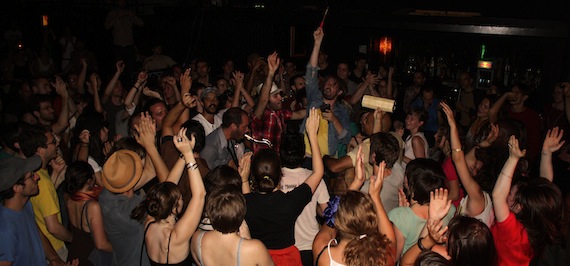 (AD's m. garner, exiled in Montreal the past two years, takes in a Fool's Gold show in the north country.)
It's been hot this summer in Montreal. We've broken into the triple digits with the heat index (that's the upper thirties if you keep score in Celsius), and a slick blanket of humidity coated the streets for much of July. There was a rush on fans. The metro, like most people's homes, isn't air-conditioned; people have driven around aimlessly, choosing climate control over climate care. Not much has been accomplished. People refused to touch one another. Everything moved slowly. We became desperately jealous of the tourists in their dark and chilly hotels.
Then, on Tuesday, dark clouds gathered and dropped a plume of rain so fierce it dragged cooler temps down from Hudson Bay. Suddenly, there was hope. We could go outside again. We would not have to drive to Laval for the air-conditioning. Francophones and Anglophones smiled at one another on the street, bending backwards to greet one another in the foreign tongue. We might even dance.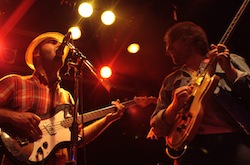 Into this atmosphere strutted Los Angeles sextet Fool's Gold, toting with them some of the sweatiest, most celebratory world-rock on the hemisphere. Last year's self-titled LP was an afrobeat banger, with its unrolling riffs and skronky sax solos courtesy of Columbus, Ohio's own Bradley Caulkin. Live, the group build mountains of tension on Lewis Pesacov's trilling guitar and the collective pops of a trio of percussionists, extending songs well past their official running time and responding to their rabid crowds by shuffling their rhythms ever-higher. Led by bassist Luke Top's Hebrew crooning and a collective sense of rubberband rhythm, the group curve themselves around a single groove and dig into it. The individual sounds–from Pesacov's jukey leads and Top's head-nodding rhythms to Salvador Placencia's congas and Caulkin's blatting–lock in and move together, every instrument flitting through its own sixteenth notes but somehow remaining faithful to all of the others. From the packed and blurry dancefloor, Fool's Gold sound like a casino factory: all that movement, all those jangles, the sound of a million different things simultaneously being put into place.
This is a band that knows their audience. A bit of pre-show encouragement from Top–"Come closer, there's no need to stand near the back"–was all the crowd at Le Belmont needed. The narrow room was packed with dancers and sweaters, everyone moving all of their limbs, reaching up and out, screaming with joy, chanting approximations of Top's Hebrew. Pesacov stretched into the crowd for a solo run, his hair swaying the way before him. Strong boos erupted when Top announced the group's final track, Fool's Gold's "The World is All There Is." Top responded by leading the audience in the song's lilting chant, everyone clapping over their heads. As the song began to wind down, Pesacov picked up a cowbell and the group followed Top's stutter steps off the stage and into the crowd, which drew in tight, shuffling and bouncing to the rhythm of Placencia's hand drum while Caulkin bleated out a solo on his sax. The memory of Pesacov's looping guitar runs seemed to hang in the air as Top brought the chant down, bringing everyone near the floor while adding a counter-chant of the words "My friends." Everyone was near the linoleum, clapping and stomping what they could, shuffling from one hip to the other. Then Top brought everything back, the bar and the band exploding in joyful shouts as Caulkin's sax and Placencia's drum rebuilt the whole thing.
There was no encore: only cheering.   words/ m garner
MP3: Fool's Gold :: Surprise Hotel
———————
+ Download Fool's Gold via eMusic's 35 free MP3 no risk trial offer
____________________________________________________________________________________