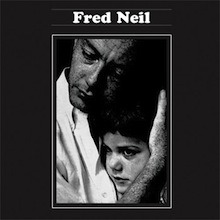 From the clatter of the Greenwich Village 60s folk scene came a voice that was inspired, authentic, and extraordinarily deep. Fred Neil had one of those unmistakable voices, a baritone that could rumble your brain and leave cracks in your spine. Add to that the skills of one of the better blues-folk songwriters; his songs were covered by Karen Dalton, Harry Nilsson, Jefferson Airplane… anybody who knew their stuff.
Released in 1967, Fred Neil is moody, soft, and dark, but shimmers in beautiful electric sound. It lives within the pinnacle of styles from which Freddy would draw his influence: Brill Building chops, cold hard blues, good old folk song, and raga spiritualism. The ten original compositions heard here are masterpiece quality pens. "Everybody's Talkin'" would put the voice of Nilsson forever in popular knowledge thanks to Midnight Cowboy; Fred refused to sing for the movie and his unornamented version is a refreshing listen. Neil harbored a genuine love for dolphins, championing their causes throughout his life, and recording his dreamy ode to open the record. I harbor a specific love for the bluesy standard, "That's The Bag I'm In" and songs like "Faretheewell (Fred's Tune)" are too precious for my description.
Neil was a father figure to many integral players in the folk, blues, and rock movements, cited as an influence by folks like David Crosby and Bob Dylan. Go grab this essential LP if it isn't already in your collection. words/ b mcgrath
MP3: Fred Neil :: The Dolphins
MP3: Fred Neil :: That's The Bag I'm In
Only the good shit. Aquarium Drunkard is powered by our patrons. Keep the servers humming and help us continue doing it by pledging your support via our Patreon page.