(Sevens, a recurring feature on Aquarium Drunkard, pays tribute to the art of the individual song.)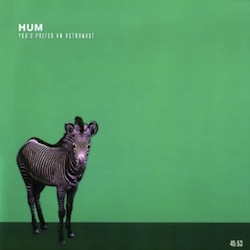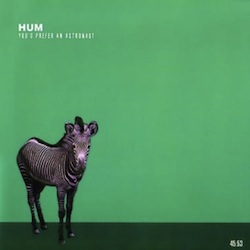 The shifting landscape of commercial music has forced the industry to reconsider how to best deliver its music to an audience. It has also, inadvertently, breathed new life into songs and artists that were past their heyday. Nick Drake's estate owes his modern rediscovery to Volkswagon; M.I.A.'s "Paper Planes" made a huge splash in the trailers for the film Pineapple Express even though it appeared nowhere in the film; and Hum's "Stars" gained a new lease on life over a decade after its initial radio run thanks to Cadillac. I always thought "Stars" was a pretty unique song to have been a decent sized radio hit in its day – 90's alt-rock radio was an interesting landscape that made room for a lot of varied music. Hearing Teenage Fanclub, the Squirrel Nut Zippers, Son Volt and Hum on the same radio station was, in retrospect, an exciting prospect.
I spoke via email with Keith Cleversley, the man who produced Hum's You'd Prefer An Astronaut along with albums by the Flaming Lips, Mercury Rev, the Posies, Red Red Meat and Urge Overkill, among others, to get his insight about the recording process and whether he saw "Stars" as the hit it was fated to become.
"I actually thought that the long intro to 'Stars' was one of the things that would have prevented a lot of radio play," wrote Cleversley, "but it ended up being one of the things that a lot of people really connected with. And we all loved it too much to even consider cutting it out." The opening is a rarity for radio – nearly 43 seconds of low key strumming with moments of heavy silence and the repetitious line of "she thinks she missed the train to Mars / she's out back counting stars."
And then the song roars to life in a pummeling riff that feels part shoegaze and part new wave metal. The lyrics always sounded to me like some Ray Bradbury story set in song, and it's this uncertain narrative that might be a key to the song's longevity along with the thrashing, hazy musical underpinning. I asked Cleversley if "Stars" had stuck out in any way compared to the rest of the album.
"The song itself..was one of my two favorite songs on the album; there was [an] ethereal 'something' about it that lingered and replayed in my head no matter what other songs or melodies we were working on…Also, with Hum, no matter how big the sounds grew, no matter how many guitar cabinets, mics, or tracks we used for a single guitar track, we always reached for ways of squeezing just a little more life and volume from each song. " Stars" was no exception and the intro to "Stars" was one of those moments I think we got close to accomplishing that goal."
Though the band would call it quits after getting the boot from their major label following disappointing sales numbers on the follow-up to You'd Prefer an Astronaut, the band has amassed a fierce cult following of people who appreciated the sonic science-fiction that they often unleashed on record and "Stars" has reached a new audience through its use in commercial advertising. Maybe she didn't miss that train after all. words/ j neas
MP3: Hum :: Stars
———————
+ Download Hum via eMusic's 35 free MP3 no risk trial offer
____________________________________________________________________________________