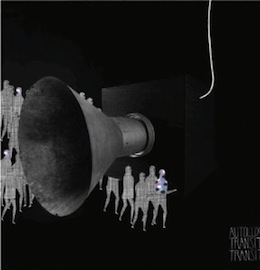 We should respect any band's willingness to record and properly market an album at its own pace, but with that schedule comes a much higher expectation, and nowadays, a completely different music environment altogether. So how does Autolux fit into all of this after six years without a release? I have no clue, but we're about to find out. It's almost impossible to tell what fans in general truly desire anymore other than the infatuation of newness and nostalgia, or at least being vaguely associated with both while paying absolutely nothing for either. But if there's one group of listeners that have been willing to stick it out and ignore this cycle those fans belong to Autolux.
That being said, Transit Transit is an album that's going to leave thousands of patient and frustrated die-hard fans with varied opinions. Why? Because a majority of the band's sophomore release is extremely familiar, road-tested and has already been in the trio's live set for three years or longer (they've been playing "Headless Sky" on and off since their L.A. record release shows for Future Perfect back in 2004). The new cover art looks pretty awesome and some of the track names have been adjusted, but I still feel like I've been sitting with this record for years.
Autolux's debut, Future Perfect, still holds up extremely well. It's heavy, mesmerizing and punishing, but it's also the sound of a band steering pop music into the 30th century. As a follow-up, Transit Transit is like hitting the pause button just after lift-off. It's as if they aren't quite ready for the future, or maybe they just can't be bothered with the idea of it.
Instead, we're taken on a detour of experimental pop that still unveils an array of scenery while reminding us that music can be imaginative and listenable. Greg Edwards' jigsaw guitars, mechanical bleeps and sampled robotics are a welcoming sign that the band still lives deep inside their heads while creating challenging sounds with the simplest of instruments. Carla's drums, as usual, sound fucking incredible on every song, especially the washed out "Audience No.2". And the more upfront melodic bass guitar-weaving and fuzz tones delivered by Eugene Goreshter are amazing on tracks like the Future Perfect-esque banger "Kissproof".
The moods also change color as we're presented with a more electronic and down-tempo vibe. From the beginning piano chords of title track "Transit Transit", through the Radiohead-influenced "Highchair" to Azar's quirky and bizarre "The Bouncing Wall". But neither of these songs stick as catchy anthems the way a track like "Supertoys" does. That's because Autolux's music sounds fully realized and futuristic when the guitars are dominating. "Supertoys" sees Goreshter and Azar in a long distance call-and-response while Greg Edwards chops through measure after measure with blurry down-strokes.
Closing number "The Science of Imaginary Solutions" is the group's most vulnerable moment on the entire record, and Carla's best vocal performance. The loud-quiet-loud structure hits you over the head for three minutes while Azar lulls you into a dream-like state. This is what Autolux do better than anyone. I just wish they delivered an entire album of songs with the same level of spectacle. words/ s mcdonald
+ Download Autolux via eMusic's 35 free MP3 no risk trial offer
____________________________________________________________________________________