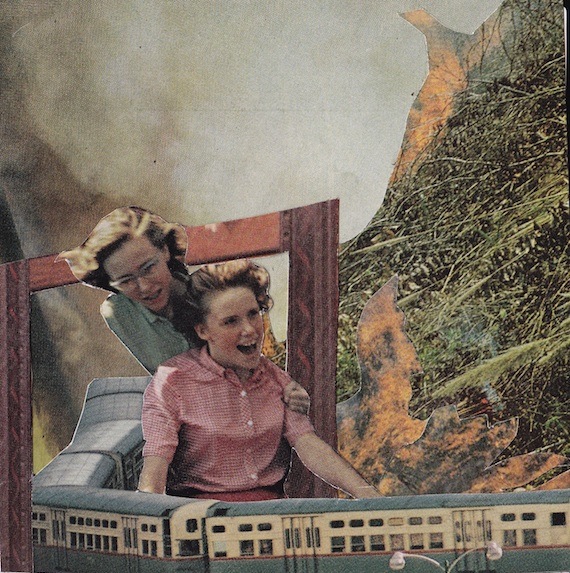 Roadside Graves just set out on the road for a month-long tour of the US of A — most likely coming to a town near you. The band went in the studio last month and cut an Aquarium Drunkard session consisting of two covers: Lindsey Buckingham's "Holiday Road" and Odawas "Boy In The Yard;" both of which they have has been working up in their live shows of late. The two covers could not be more different; being so I asked the Graves' John Gleason to elaborate below. See this band live.
____________________________________________________________________________________
MP3: Roadside Graves :: Holiday Road (Lindsey Buckingham)
Last week I was fortunate enough to be in Key Largo for an evening. After a lazy day I stumbled over to the hotel's Tiki bar to listen to the band for the night and drink a few cocktails. I was crushed, since I first heard that Beach Boys song "Kokomo" I had always assumed there was some deep sufi surfer philosophical bent to the line, "You'll get there faster if you take it slow" but as interpreted correctly through the island bar band it came out as it should, "We'll get there fast and then we'll take it slow". Which is a fine way to live when you are on vacation, but doesn't mean shit when you are back in New Jersey.
"Holiday Road" is played and sung in the band van and like a wild pack of dogs we all chime in on the "OOH OOH OOH…" and literally bark madly at the end of Lindsey's live version. It eases the tension of a bad show, the stress of not calculating time differences, covers the man smell, erases the faces of the beautiful bartenders, and simply puts us all in a good mood.
We're not alone, it seems many bands we play with have their own cover version of this song. It's a catchy song, with dumb lyrics. And like "Kokomo" I always thought this song, tied in with the movie VACATION, meant more than it probably really did. It's the failure of a holiday/vacation, you work, you save and then spend more money than you could imagine and if it's not perfect you freak. The theme park is closed.
Just for kicks I changed some lyrics. Loosely inspired by NJ's new governor and how bored teenagers seem to be with their lives.
MP3: Roadside Graves :: Boy In The Yard (Odawas)
It came out in 2009, but Odawas The Blue Depths is my favorite record of 2010. And I'm honored to cover one of their songs, I was worried they would say no.
We were lucky to play with them at a backyard BBQ show at SXSW this year. I had never heard of Odawas but I noticed our drummer Colin sitting intently in the grass, under a tree house, during their first song. I sat and together we exchanged looks, nods, and appreciation for the awkward band on stage. It felt new and odd, like hearing Nick Drake for the first time.
Imagine Berlin ("Take My Breath Away") swirled with a fine and tasteful country/folk band from the 60's. Talking Heads covering Gram Parsons. Brain Eno producing Damien Jurado. The ocean. A lamb. A deleted scene from Twin Peaks.
"Boy in the Yard" is perfect. We tried not to change it too much, but it felt necessary to cover. It's strange to admit, but I feel like this song is about my father. He died a year ago, and when I heard the lyrics, "I know that I'm not alone, I know that I'm not the only one" I can't help but think about other people I know who have lost a family member and find some comfort knowing it happens to us all and at the very least I can listen to them and understand.
So from one misfit band to another we hope you enjoy our cover. words/ roadside graves

+ Download Roadside Graves via eMusic's 35 free MP3 no risk trial offer
____________________________________________________________________________________