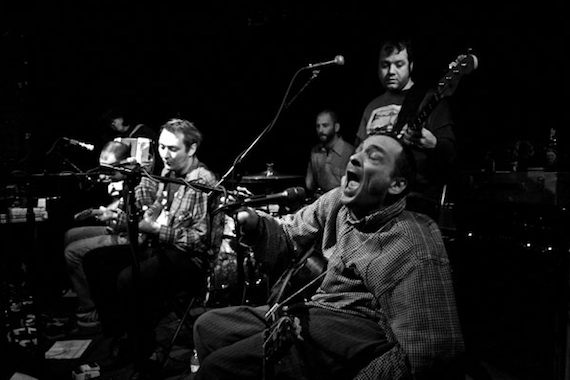 (Diversions, a recurring feature on Aquarium Drunkard, catches up with our favorite artists as they wax on subjects other than recording and performing.)
Dedicated to their friend and collaborator Vic Chesnutt, Elf Power's self-titled tenth LP is one of maturity and grace. A decade and a half into their career, the group's lo-fi leaning pop songwriting continues to evolve without abandoning the very thing that drew us in in the first place. Below Elf Power's Andrew Rieger reflects on his relationship with the music of the late Vic Chesnutt. Look for Elf Power out September 14th on Orange Twin Records.
I was a big REM fan as a teenager growing up in the small town of Greenwood, South Carolina, just eighty miles away from Athens, GA where the band lived. REM turned me onto a lot of other obscure bands that i had not yet discovered through the cover songs they recorded and played live.
This is how I first learned about great bands like Velvet Underground, Mission of Burma, Television, and Athens' own Pylon. The members of REM also played on and produced records by lots of other great bands which lead me to the likes of the Replacements, the Feelies, Hugo Largo, and one of our greatest modern songwriters, Vic Chesnutt, whose first two albums, Little and West of Rome, were produced by Michael Stipe.
Little was basically just Vic singing and playing these strange and wonderful songs live, with very little embellishment. These bizarre tales of accidentally catching a kitten and a possum in a rabbit box as a child ("Rabbit Box"), recollections of childhood cartoons mixed with declarations of atheism ("Speed Racer"), and shout outs to Ernest Hemingway, the "articulate dead fisherman" ("Independence Day"), were a revelation to me as far as the possibilities of the scope of what could be related to a listener in song.
The follow up album West of Rome expanded on the debut with fuller arrangements including drums, bass, strings and keyboards. This album is my all time favorite Vic album, with utterly gorgeous and mysterious tearjerkers like "Where were you", the beautiful, meandering guitar solo that builds into a majestic climax in "Withering", and the morbid piano ballad "Florida" which says of the state, "There's no more perfect place to retire from life."
Vic was a really fun artist to be a fan of, because you never knew who he was going to collaborate with next, or what it would sound like. The Salesman and Bernadette, his 1998 collaboration with Nashville mini orchestra Lambchop, was an unexpected triumph into new sonic territories, his collaboration with Widespread Panic, Brute, produced two really fun, off the cuff recordings, and his collaborations with Guy Picciotto from Fugazi and Canadian dirgesmiths A Silver Mt. Zion, produced two dark and beautiful records, North Star Deserter and At the Cut.
I was lucky enough to make a record with Vic, with my band Elf Power titled Dark Developments, and we called the collaborative effort Vic Chesnutt, Elf Power, and the Amorphous Strums. We recorded it over the course of a year in 2007-2008 in Vic's attic studio. We would come in, Vic would show us a song, we'd play through it a few times, record it and move on. Vic didn't want us to overthink what we played, he wanted our first instinctual ideas, which was hard for me as I'm used to working out ideas by listening to demos and having plenty of time to think up arrangements, but it was a challenging and ultimately very rewarding and fun way to make a record.
We toured all over the world with Vic, and had some great adventures, such as witnessing him get caught for shoplifting a notebook and subsequently talking his way out of getting arrested in Madrid, having him sometimes scream "Help! Help! No!" to confused passers by in crowded parking lots, as we lifted him into the van, to make them think we were kidnapping him, and his legendarily nasty impromptu soundcheck songs sung for our amusement.
When we played Carnegie Hall in 2009 for an REM tribute concert, we thought he might hold back from the obscenities in those hallowed halls, but instead he sang a particularly nasty and obscene little song much to our delight. Vic was a lovely man, a really great and unique songwriter and one of the funniest people I've ever had the honor of sitting in a stinky van for 6 weeks straight with. words/ Andrew Rieger photo/ p.j. sykes
MP3: Elf Power :: Stranger In The Window
——————
Aquarium Drunkard is powered by its patrons. Keep the servers humming and help us continue doing it by pledging your support via our Patreon page. For heads, by heads.