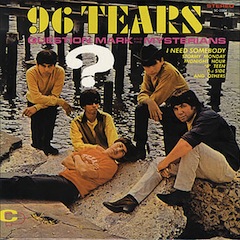 For an outfit whose very name professed a preference for anonymity, there's a surprising amount of information available nowadays about this bunch of rockin' Chicano chavales; check out their Wikipedia page for the full Monty. Question Mark himself has gone to considerable lengths to conceal his identity over the years, and why not? It's one of rock & roll's best-loved clichés. However, copyright registrations in the Library of Congress show his birth name as Rudy Martinez.
This, the first of their two albums, followed the runaway success of the single "96 Tears" as the title indicates, but it's not the usual mid-sixties cash-in collection with a couple of hits padded out by inferior versions of "I've Got My Mojo Working" and "Summertime". Of the twelve tracks, only one is a cover — "Stormy Monday", the band's inevitable contemporary bow to the blues — and the rest are originals, the writing mostly credited to all the band members. Simple stuff, mostly, with a limited palette of keys and chords, but at least they made the effort.
Of course they're the quintessential r&b garage band, with the leanest, meanest sound around; they make Booker T and the MGs sound like the Electric Light Orchestra. The British Invasion influences are crystal-clear: the bass/guitar/organ interplay on the sparse twelve-bar "Up Side" shows a clear link from Eric Burdon's original Animals, while the choppy rhythm of "You're Telling Me Lies" is a direct steal from Doug Sahm's own Invasion- derived "She's About A Mover". The more vehement of ?'s vocals, as on "96 Tears", are a dead ringer for Van Morrison in his Them days. There's also a closer-than-accidental resemblance to the Rolling Stones' earliest American recordings that goes deeper than ?'s occasional Jagger impersonations. Play any of the Stones' tracks recorded on their 1964 visit to Chess and released on the 5 x 5 EP (UK) or the 12 x 5 album (US) and you'll see what I mean: that wiry, reverbed sound on the Stones' "Confessin' The Blues" as against the Mysterians' take on "Stormy Monday", or on the steady-rollin' "Empty Heart" as against "Ten O'Clock". The major differences are the forefronted Vox Continental on most of the Mysterians' waxings and the undeniable fact that Bobby Balderama was no Brian Jones when it came to creative guitar playing.
So, derivative certainly. But, hey, if you really need originality, go play Pet Sounds or Odessey & Oracle. This is one to put on when your head's woolly from the perplexing complexity of prog-rock and all you need is a fix of something raw and primal. For twice the strength, get the 2005 compilation Cameo Parkway — The Best Of which has the whole of this album and the follow-up Action — more of the same, though a bit denser sonically — carefully remixed from the originals, plus both sides of their valedictory non-album single. (Avoid other compilations, most of which contain re-recordings.) words/ len
MP3: ? and the Mysterians :: 96 Tears
———————
+ Download ? And The Mysterians via eMusic's 35 free MP3 no risk trial offer
____________________________________________________________________________________