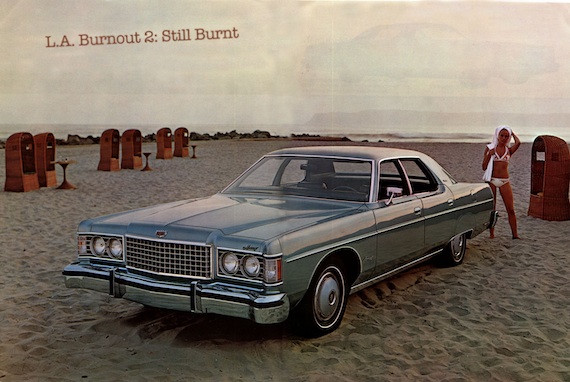 Sean Howe and Aquarium Drunkard are back with L.A. Burnout 2: Still Burnt. Continuing in the vein of last year's L.A. Burnout, the 25 tracks compiled within exemplify the not-quite-there nature of the city, particularly what was being laid down in the 70s. Play this mix around dusk while driving through Topanga with the windows rolled down – it's the next best thing to time travel.

Download: L.A. Burnout 2: Still Burnt – A Compilation (zipped folder 161 mb)
Brian Wilson – Smog High
Shango – Day After Day
The Originals – California Sunset
Brewer & Shipley – Dreamin' In The Shade
The Mamas & The Papas – Mansions
Hill Barbata Ethridge – L.A. Getaway
Terry Melcher – Rebecca
Terry Allen – There Oughta Be A Law Against Sunn…
The Everly Brothers – Ventura Boulevard
Boffalongo – Snow White Lady
Charles Lloyd – TM
New Riders Of The Purple Sage – High Rollers
The Main Ingredient – California My Way
Ned Doheny – Postcards From Hollywood
Orange Colored Sky – L.A. (Los Angeles)
Boz Scaggs – Hollywood
Johan Blomgren – California Sundown
Tim Buckley – Freeway Blues
Don Everly – Southern California
Terry Melcher – Beverly Hills
Bobby Womack – Daylight
Art Garfunkel – 99 Miles from L.A.
Ambulance LTD – Arbuckle's Swan Song
Leon Ware – Why I Came to California
Gabor Szabo – Theme From Valley of the Doll
Don Everly – Southern California
Only the good shit. Aquarium Drunkard is powered by our patrons. Keep the servers humming and help us continue doing it by pledging your support via our Patreon page.