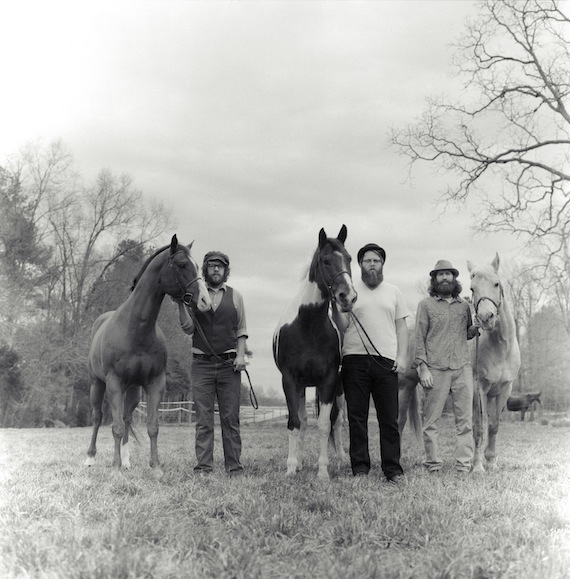 With the inaugural Hopscotch Music Festival kicking off later this week in Raleigh, NC we asked Megafaun's Bradley Cook to run down some of his favorite local haunts in his adopted hometown. And, for those keeping score, this isn't Cook's first rodeo on AD; be sure to check out the piece he did on the Lakers for us last year. Megafaun are gigging twice during the fest, one of which serves as the album release party for their third record, Heretofore, which drops Tuesday, Sept 14th, on Hometapes.
1. Poole's Diner: Poole's Diner is easily the best restaurant in town. The owner/executive chef, Ashley Christenson has an amazing ability to bring traditions of southern comfort food into the gourmet realm. The best meal I ate in 2010 was at Poole's. This year I will have been away from my house for a total of nine months as a result of touring and traveling and in early May I had just returned home from a two month tour and was complaining to Ashley about how I am never home when she is cooking (she travels a lot too). So she did the most generous thing ever and invited me and some of my dear friends over to the restaurant for lunch the next day. I just about died. They aren't open for lunch, so it was just the three of us and she prepared probably eight different things to eat. The softshell crab was completely insane. She also made a beet salad with horseradish vinaigrette that was out of this world and perfectly cooked pork belly over a bed of morel mushrooms. It was amazing. It was my favorite food memory of 2010 and I have a LOT of food memories from this year!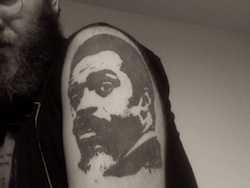 2. Annie Walker/Blue Flame Tattoo: Annie is the tattoo artist who did my David Tudor tattoo and my Albert Ayler tattoo. She is incredibly talented. Because the tattoos are visible, I get asked about them a lot. This means I talk about Annie a lot, because as evidenced on my arm, she is very, very good! It gives me pride to know that we have a badass artist in town. Oddly, color is her specialty and I'm not a color guy, so you aren't even seeing the best of her work. Simply put, she is someone I trust to make a permanent statement on my body that will be there after I die. I know some people are very casual about getting ink, but I sit on things for years. In my world, that kind of trust is reserved for tattoo artists or marriage candidates. I've just started making the necessary steps for my next tattoo. Also, Blue Flame in general is a great place to get work done. Everyone there is awesome.
3. Halifax Park: If you check this blog, you are already aware of my love of basketball. One day in May of 2006 I had some relatives in town and we decided we needed to play some basketball. So my buddy, Vern and I made some calls and organized a game. One of the people we were told we needed to include was Ivan Howard from the Rosebuds. Ivan suggested we play at this little park by his house. Thus the birth of the Halifax Lakers (well, I'm not sure everyone recognizes that as the team name haha). We have been meeting year round for almost four years now. There are probably 30 dudes on the text tree that receive a text anywhere from one to four times a week from a dude named, Roy (Just for the record, Roy never seems to miss contested shots…it's frustrating if you aren't on his team). We generally play four on four for up to two hours. There are a lot of musicians in the crew and I can safely say I watched the earliest think tanks of the recent Hopscotch Festival start there. It's where Ivan asked me to join the Rosebuds. It's where noses have been broke and knees have been blown, but most importantly, where tons of dudes have become really good friends. It's one of my absolute favorite traditions of coming home from tour.
4. The Scene: We have the best music scene in country. Now, I am not going to pretend that everyone doesn't feel this way or say this about their own scene. They should. People should believe in where they are coming from. DeYarmond Edison, the band we moved to Raleigh with, was from Eau Claire, Wisconsin. Megafaun is purely and unquestionably a band from North Carolina. We would not have had the same opportunities to grow and develop as a band anywhere else. I sincerely believe this. With that said, the list of bands that inspire us is so great here. This is one category that should extend into the whole triangle of Durham and Chapel Hill too, but in Raleigh alone we have The Rosebuds, The Bowerbirds, The Love Language, The Annuals, Lonnie Walker and Birds of Avalon all touring nationally and internationally. Every Thursday you can count on Local Beer Local Band, a theme night at a local bar called Tir Na Nog, to expose people to a killer three-band bill of local music. Every time I go, I see someone else that inspires me. We are just surrounded by creative and motivated people.
5. Brome: Brome is the house I share with one of my best friends, Gray. "Brome" is the silly, self-important nickname we gave the house, which is simply a lazy hybrid of Bro-Home. It has essentially been an adult group home of sorts for bros in transition(well, there have been three girls that lived there). Brome exists in a chill neighborhood in town and the house has two extra bedrooms. Right now we house, Yan Westerlund (our drummer's brother and the drummer for Bowerbirds and Lost in the Trees) and BJ Burton (dude that recorded our new record, Heretofore and the new Love Language record, Libraries. He is also in the Love Language) We have had 12+ different, radical people rent rooms over the years and the house has a good vibe. I feel like lots of people have met there, lots of bands have stayed there and it makes for a good party house because our kitchen is huge. Also, we have six fully functioning stereos. SIX. Grayson has a dog named, Alice (named after the one and only, Alice Coltrane) who serves as the mascot. We easily have the largest Lakers museum in Raleigh…debatably North Carolina, but I think James Worthy's place in Gastonia probably displays some heavy shit. The only rule is that everyone who lives there cheers for the Lakers and that Laker games have priority over everything on TV. Duke has second priority. I always love coming home to that house and Grayson is just my favorite person to live with.
6. The Village Draft House: When I first moved to town, my best friend, Vern and I would walk across the street to this sports bar and watch Laker games since we didn't have cable at that house. Well, bonus for us. It has really good food, and amazing beer selection and some of my favorite people serving food in town. I have met some pretty amazing people there and had some pretty amazing conversations happen there. Megafaun would meet there at first to figure out plans. Grayson and I started a record label there. I love it. Oh right, they also have the best cheese fries in America. No contest. words/ bradley cook
Previously: Diversions: Megafaun On The Los Angeles Lakers
MP3: Megafaun :: Volunteers
——————