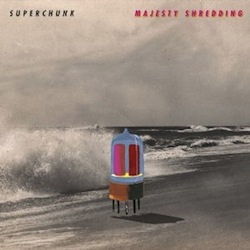 When Portishead released Third in 2008, it had been nearly a decade since the release of their previous album. That's a lifetime in the music industry and all sorts of questions arise when it happens: what will the band sound like now? ; has the band lost its touch? ; will anyone care? It's a gamble to go away for such a long period, and now the wager has been taken up by Superchunk whose new album, Majesty Shredding, is its first new LP in nine years.
This isn't, however, completely out of thin air. The band released their first new music in eight years, the Leaves in the Gutter EP, in the spring of 2009. When I wrote about that EP, I spoke of how the songs sounded like their mid-90s work and commented that the brevity of the EP format worked to its advantage, keeping a set of sharply honed power-pop punk from getting too overwhelming. So, the first question – what will the band sound like now? – is answered almost immediately with the bracing "Digging for Something," Majesty Shredding's opening salvo. The EP was a foreshadowing of the sound of the band in 2010 – a melodic and energetic blast that somehow manages to combine the graceful song structure of Here's to Shutting Up and the steam-roller pacing of their earliest albums. It's obvious, to some extent, that Mac McCaughan's work during the hiatus with his other band, Portastatic, has had some influence on the sound of this record, but this is still undeniably a Superchunk album. "My Gap Feels Weird," "Crossed Wires," and "Learned to Surf" (the lone hold over from the EP) are equals of the opening track, barreling across their playing time with infectious choruses and backing vocals powered by the still-youthful yelp of McCaughan.
But how does a band sound, twenty years into a career, revisiting their former selves? It's a recipe for potential disaster, but there's not a single forced word, note, chord or beat on this record, and if anything, the age of the band has made these songs better. "Rosemarie" winds a woozy melodic line around a glistening stomp and "Fractures" opens with a hazy, soaring lead that had me literally exclaiming in my car when I first listened to it.
Will anyone care after nine years? You never know, but Superchunk is a fiercely loved band, even now, and there seems to be a genuine desire for new music from them. The good news is that they've succeeded in creating an incredible album that uses the past without sounding like a pale echo of it. Majesty Shredding is not the revisiting of youth; it's the exorcism of a career and their finest moment since Foolish. words/ j neas
MP3: Superchunk :: Digging For Something
———————
+ Download Superchunk via eMusic's 25 free MP3 no risk trial offer
____________________________________________________________________________________