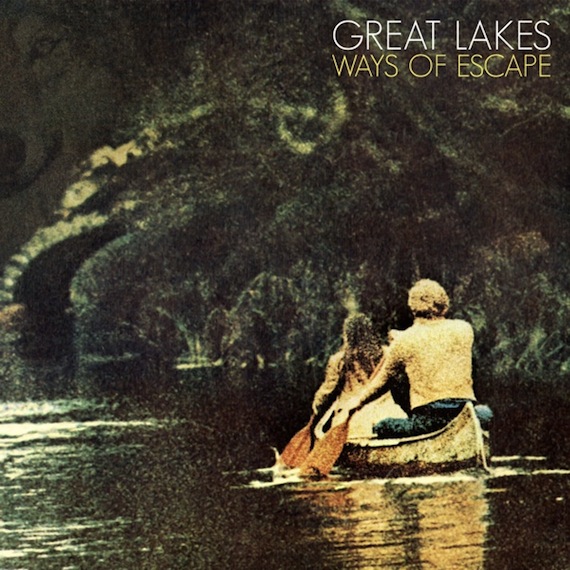 October 12th sees the release of Great Lakes fourth album, Ways of Escape. Below, founding, and constant, member Ben Crum reflects on the process, and hurdles, it took to get there.   Great Lakes will play a record release show, with the full band that played on Ways of Escape, at The Rock Shop in Brooklyn on October 24th.
____________________________________________________________________________________
"Bands, those funny little plans that never work quite right." — Jonathan Donahue of Mercury Rev
I'm 36 now, and have been playing music and putting out records for a long time. My band, Great Lakes, began in Athens, Georgia in 1996. A self-titled debut came out in 2000, followed by The Distance Between in 2002 and Diamond Times in 2006. Ways of Escape is the new one, to be released October 12th, 2010, and, in its way, it turned out to be something of a debut for me–which is strange, because I've played on a lot of different records and in many bands over the years.
Great Lakes began based around the songwriting collaboration between me and an old friend and lyricist, Dan Donahue, with whom I'd written songs since we were in high school. We wrote the first three Great Lakes records together, collaboratively–I wrote the music and he wrote the words. In the early days of the band Jamey Huggins, who played with of Montreal for many years and recently released a record under the moniker James Husband, played an important role as a multi-instrumentalist. Counting people that have either played on the records and/or in the live band, I've worked with well over 30 different musicians since Great Lakes began–but the "band," for the last few years, has essentially been just me and whoever is playing with me at any given time. Though I still do some full band shows around New York, these days I prefer to tour with a duo line-up–me on guitar, and a drummer, Kevin Shea, who has been with me for 4 years now. But, though my new record features Kevin on drums and 8 other accomplished and talented musicians playing a variety of instruments, in a sense I'm basically the last man standing, the Great Lake.
That's just how things worked out. I was always content with the collaborative songwriting process that Dan and I had developed, and I never would have made a move to take over writing the lyrics–but, despite my very real reluctance to do so, I ended up being forced to, because halfway through the making of the new record Dan and I got to a point where we just couldn't agree on how the songs we'd written together should be produced, arranged, and orchestrated. Simply put, I was no longer willing to compromise, musically, having gotten to a point where I felt I had to insist upon the same respect for my musical vision as I'd always afforded his lyrical, or poetic, vision. What complicated things further was the fact that, apart from the lyrics, what he had to contribute amounted to little more than his opinions about which direction I should or shouldn't take a song in. Finally, he decided that if I was going to call the shots, musically, as it were, then he no longer wanted me to use his lyrics. It meant the end of our songwriting partnership, at least for the time being, and left me in the position of having a record's worth of music and vocal melodies, all of which I felt great about, but no lyrics.
Initially, I wasn't sure what to do. I don't think Dan thought I would, or could, continue without him. I believe his words were: "You can't write lyrics." But I found I could, in fact, write lyrics, and that, at times, I was capable of an almost furious focus. The realization that I had a blank slate to work with was particularly inspiring to me. I think the odd way this record was made, unmade, and then remade gives it a certain uniqueness, for better or worse. When you listen to it, you're hearing songs that began life as something else, and ended up, through a circuitous process, becoming, I think, so much more, for it.
Some people might think this a sad story. In some ways, it is. It's never pleasant to have a falling out with an old friend. But, artistically, I've never been happier or more satisfied. After years of singing someone else's words, it feels great to sing my own. And I've certainly never before made a record that got so close to the idea I had in my head for what it should sound like.
Below is a link to a song from Ways of Escape, called "Chosen Enemy." If you've read this, you shouldn't have a hard time figuring out what it's about.
MP3: Great Lakes :: Chosen Enemy

And here's a song, the lyrics of which came from an email I received from Dan after we'd gone our separate ways, both in terms of our songwriting collaboration., and in a literal sense, too, since he abruptly moved back to Athens after our split. I simply set the words of his email to music, both for old time's sake, and probably also because by that point putting his words to music was almost second nature to me. This is previously unreleased.
MP3: Great Lakes :: Ballad of the Brothers
Dan and I always called ourselves brothers, and we fought like brothers, too. To say there's a lot of history between us would be a doozy of an understatement. Artistically, as I've said, I'm not upset about how it worked out. I'm proud of the record I made. And I was happy that, in the end, Dan wanted me to put one song of his lyrics on the record. But I can say unequivocally that going through this experience just plain sucked, for both of us. I hope one day we'll be able to simply be friends again–maybe even write a song about all this. I hope so, anyway. words/ ben crum
+ Download Great Lakes via eMusic's 35 free MP3 no risk trial offer
____________________________________________________________________________________