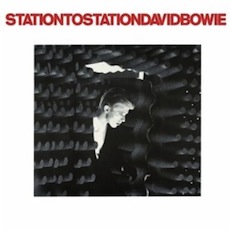 Versatility: a trait that when forced, more often than not, suffers from feeling exactly that way. Historically this is an issue David Bowie has avoided for the most part—especially during his 70s peak. Unlike a number of the artist's contemporaries, Bowie has, rather effortlessly, traversed the ins and outs of various trends, fashions, and genres over the past four decades. Very few artists can straddle both the uber-mainstream that is American classic-rock radio and the icy proto-punk landscapes explored with Brian Eno just a few short years later. But Bowie did, and did it well.
Station To Station, the 1976 studio album that bridged Bowie's plastic-soul phase with the Berlin Trilogy, has just been reissued in grand fashion. Why should you care? For a numbers of reasons, actually; for if one strips away all of the outside ephemera surrounding the making of the record (the drug use, Bowie's fascination with the occult, the Nazi fetishism, his days/nights in Hollywood) and focus on the actual music you will find a recording that is a near-perfect synthesis of the r&b muse Bowie had been chasing the previous year, on Young Americans, and the influence of Neu! and Kraftwerk that would come to dominate his next three releases. This melding of soul and r&b rhythms, coupled with Bowie's burgeoning interest is krautrock, make for a highly original entry into the Bowie canon. Ten albums in and he was still reinventing both himself and his music. Think about that for a minute.
Additionally, for Bowie enthusiasts, the album has long served as an interesting historical document in the career of the artist.   Station To Station, and the following tour, introduced Bowie's last great character, the Thin White Duke; a persona described by Bowie himself as "a mad aristocrat, an amoral zombie and an emotionless Aryan superman." While it can be argued, for or against, that it is this persona that embodies the wealth of Station To Station, proper, it was indeed The Thin White Duke who took the album on tour as evidenced on the reissue's inclusion of the 1976 Nassau Coliseum concert. For those already in the grips of Station To Station it is this inclusion of the Nassau concert that makes the reissue worthwhile. The touring band, song arrangements and sound are all ace. Frankly, in relation to previously (commercially) available Bowie live recordings, I'm surprised the powers-that-be waited until 2010 to unleash this beast on the public. As Bowie himself crooned, "It's not the side effects of the cocaine / I'm thinking that it must be love." Indeed.
Reissue: The 3 CD Special Edition box features: the original remastered album, the previously unreleased 'Live Nassau Coliseum '76' concert (on two discs), a 6-page booklet documenting the atmosphere surrounding the recording, and 3 postcards. Also available of vinyl.
+ Download David Bowie via eMusic's 25 free MP3 no risk trial offer
____________________________________________________________________________________