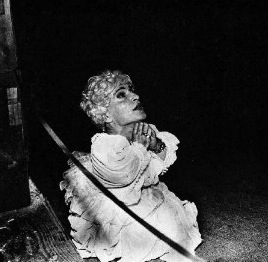 2010 can be summed up as the year of extreme musical escapism. For example, an influential and meaningful genre like "ambient" has been watered down into sub-categories like "witch-house", "chill-wave", "wave-gaze" and dozens more. Sigh. All of these terms represent the same basic feeling and trend that has dominated this year's music releases, the powerful and influential blogosphere and even popular music criticism, yet none of these micro-genres feel like movements. Some of it is definitely memorable and holds promise beyond the bedroom recordings that have marked its heavy promotion and fuss. But let's be honest, the majority of it is redundant, vague and simply distracting us from reality. I know what you're thinking, "isn't that what music is supposed to do?" Sometimes.
I also think that these sub-categories speak volumes about the difference between Gen X and Y's attraction to the music that our parents' culture was so heavily influenced by and the lack of value that today's culture places on music, and by "culture" I mean all of us. Albums used to seem larger than life and the release dates extremely important whereas now there's a disposable feel to everything — no matter how strong the rating. Personally, I feel caught in between both cycles and love electronic and traditionally crafted music equally, but I also feel that deep down every "wave" that's been assigned to a track or full-length represents a glaring reminder of where our heads are at. Popular and influential music should be addressing our real-life issues (work, money, relationships, etc.), decisions and the state of the union, yet it continues to reflect the increasingly immobile position we are all stuck in; one giant sonic mush. New   music everywhere, yet I feel further apart from it than ever before.
This is also the first time Gen X and Y have collectively experienced or witnessed massive economic bleeding with no miracle gauze on the horizon. It's frightening, and maybe that can help explain our fascination with formless music. But at the same time I'm so tired of the vagueness that has been popularized. Aren't you? I'm ready for something different, substantial, or at least something refreshingly honest. Then along comes Deerhunter's Halcyon Digest, which has managed to be both an escape and a beacon of light. With this album I consistently hear Bradford Cox guiding both generations into a world where sound and classic songwriting blend together with amazing results. No pretense, just great songs.
Deerhunter used to keep themselves warm and comfy with blankets of noise that both hid and unveiled the group's melodicism. But there's no hiding here, no gimmicks to be found. Halcyon Digest leaves me with the impression that the band is ready to embark on a new path, an honest and clear-headed one at that. Plenty of effects and reverb? Absolutely, but they only increase the album's resolution and the quartet's obvious talent. Whether it's the swirling delays of opener "Earthquake", the beautiful shining pop of "Desire Lines" or the aptly titled "Helicopter", there are a swarm of tracks to cherish. I've been a big believer in the band since first being introduced to Cryptograms, adoring Fluorescent Grey and rocking out to Microcastle. Halcyon Digest is an album that feels unafraid, youthful and honest. It's the right album at just the right time, and it's the only one of late that I can't live without. words/ s mcdonald
MP3: Deerhunter :: He Would Have Laughed
——————
+ Download Deerhunter via eMusic's 25 free MP3 no risk trial offer
____________________________________________________________________________________