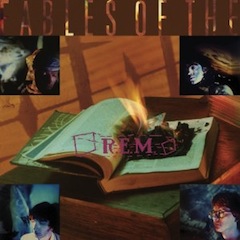 As the last remnants of Summer began to burn off throughout the length of September, the stage was set for taking in the reissue of R.E.M.'s third LP, 1985's Fables of The Reconstruction, as a whole. If context is indeed everything, then Fables is woolen, wood-smoke and that unmistakable crisping of Autumn air.
Twenty five years after its initial release, Fables continues to inhabit a curious place in the R.E.M. discography, which now includes fourteen full-length releases.   Perhaps ironically, as it was recorded in the UK, the LP feels the most inherently "Southern" of any of the groups output before or since. The cadence and inflection in Stipe's vocals, the nuanced instrumentation, and the lyrical content—right down to its very title—all inhabit a space drifting in limbo somewhere between Wise Blood and Sling Blade. This is non-linear, stream of consciousness, storytelling and Fables is a tale told of a South that in many ways no longer exists…if it ever did at all.
The cast of characters range from Stipe's own psyche to the eccentric poets and artists that peppered the band's time spent in the deep South, most notably Howard Finster.   We find R.E.M. at a stage in their career in which they had been writing, recording and, very significantly, touring at a non-stop pace since the release of the Chronic Town ep. It is the touring, the time spent outside of Athens, that ostensibly colors Fables worldview, for when we leave home we tend to, if not romanticize it, certainly think about it. Subconsciously or not Fables is, both thematically and aesthetically, a reflection of where the band came from, warts and all.
The first reissue I purchased of Fables (the 1992 IRS Vintage Years edition) bookended the LP with five b-sides (three studio tracks and two live) all of which were later comped. This new 2010 "deluxe reissue" is dolled up in a much more grand fashion packaged in a cardboard box with era-appropriate photos and notes by Peter Buck. Disc two houses the entirety of the Athens Demos including "Throw Those Trolls Away," a track which is seeing the light of day for the first time. These demos present the songs on Fables in their embryonic form just prior to the London sessions that would yield the forthcoming LP.
While certainly not their most commercially or critically adored, Fables of the Reconstruction continues to remain one of my favorite albums by the band. The vibe is weird, dark and murky in a gothic sense R.E.M. would soon move away from forever. It is also the first album of theirs I had on vinyl; scored twenty years ago as a teenager in Atlanta at a garage sale for a quarter. Hearing this strange, spooky, Americana spinning on those etched grooves, by a band 60 miles north of my hometown, made me the fan I am today. And more.
R.E.M. :: Old Man Kensey — June 9, 1984 Passaic, NJ
+ Download R.E.M. via eMusic's 25 free MP3 no risk trial offer
____________________________________________________________________________________