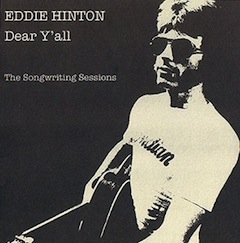 An artist that will forever go down as one of the key architects of Southern soul, the late Eddie Hinton is about as swampy as the genre gets. A veritable Muscle Shoals renaissance man, Hinton paid the bills as a scratch session musician, in the town's famed rhythm section, contributing to some of the most well known sides to come out of the storied Alabama enclave. Hinton's chops can be found on the likes of Wilson Pickett, Arthur Conley, Aretha Franklin, Joe Tex, Solomon Burke, Percy Sledge, The Staple Singers, Elvis Presley, The Box Tops, and Otis Redding. Not too shabby.
Of Hinton's limited official studio recordings it is Dear Y'all: The Songwriting Sessions that really hits the note; a quality demo collection capturing the bare essence of both Hinton's playing and vocals. And what of that voice? It was years before I learned Hinton was indeed a white man, that the voice belting out those swampy R&B stompers and soulful blues belonged to a man of a complexion more akin to Bobby Charles than Otis Redding.   In short, Hinton was on it—he was the real deal. His instincts, hell, his entire aesthetic, are where it's at. His brilliance was also criminally under-appreciated at the time of his death in 1995.
Comprised of unreleased material and versions of songs that would make it onto his 1978 debut (the awesomely titled, Very Extremely Dangerous), the Dear Y'all collection, since it's 2000 release on Zane Records, has been one of my favorite turn-ons for genre enthusiasts. Come on a get ya a little taste….
MP3: Eddie Hinton :: Super Lover
MP3: Eddie Hinton :: Cover Me
MP3: Eddie Hinton :: Build Your Own Fire
———————
____________________________________________________________________________________