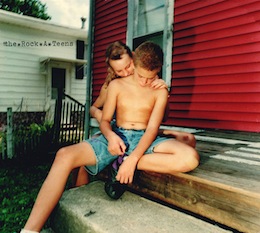 Prior to my buying into the heathen bargain that is Los Angeles, ye olde Drunkard grew up in the wooded enclave that is Atlanta, GA. Recently, through the magic of eMusic, bit torrent and the like, I have been revisiting albums by ATL artists that I long sold off in the mid-late 90s in an effort to pay off various and sundry bartabs, gambling debts, etc.
Earlier this year I looked back at the Jody Grind. Today, I'm picking up the thread with Cabbagetown favorites, the Rock*A*Teens. Expect future entries on Smoke, Deacon Lunchbox and other weird and forgotten, outsider outfits that haunted the deep South, and Redneck Underground of Atlanta, during the nineties. I imagine these tales will reside somewhere on a plane between fact, fiction and half-remembered anecdotes.
Thankfully, whenever music gets too wonky, too precious and too self-absorbed someone has the smarts to dial everything the fuck back. Enter the Rock*A*Teens. Formed in Atlanta in 1994, the band, led by Chris Lopez, were the antithesis of the ubiquitous alt-rock dreck of the era, blasting out a strain of garage spun rock & roll that had absolutely nothing to do with whatever post-grunge was wafting out of car radios at the time. Riffing on the attitude and snarl of punk rock, Gene Vincent,   Pebbles compilations, the Mats and gritty Southern soul music with undeniable pop instincts, the Rock*A*Teens more than lived up to the promise of their name.
Between 1996 and 2001, over the course of five full-lengths and an EP (through various personnel changes), the band helped re-define cool in their hometown and beyond.   Whether discussing the Kelly Hogan or the Ballard years, the Daemon Records or the MERGE years, Rock*A*Teens stayed on message with their brand of haunted, debauched and, at times, gothic garage rock.
Revisiting these albums of late has been less of a nostalgia trip but instead one of realizing how relevant R*A*T were and still are. If you missed this outfit the first time around, do pay attention now.
MP3: The Rock*A*Teens :: Down With People
MP3: The Rock*A*Teens :: Black Metal Scars
MP3: The Rock*A*Teens :: I'm Your Puppet
Only the good shit. Aquarium Drunkard is powered by our patrons. Keep the servers humming and help us continue doing it by pledging your support via our Patreon page.