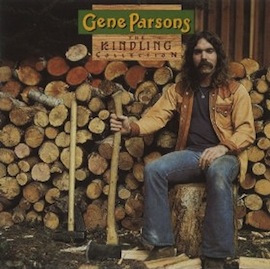 Sometimes it's the less visible members of a great band who turn out to be the most interesting. Gene Parsons was the drummer with the Byrds from 1968 to 1972. If you've ever even heard his name, there's a fair chance that you'll confuse him with his near namesake who was with the same band less than a year and achieved a disproportionate notoriety. It's indicative of Gene's character that when Chris Hillman quit the Byrds to form the Flying Burrito Brothers with Gram, Gene refused the invitation to accompany him, choosing to stay with the seemingly over-the-hill outfit out of loyalty, particularly to close friend Clarence White, rather than take a giant leap with the hotly-fancied new boys.
Gene's career continued to be defined by his unassuming, sensitive personality. When Roger McGuinn finally fired Gene and Clarence before the ill-fated reunion of the original band, Gene went into Warner Brothers to record an album of the songs he'd been unable to persuade McGuinn to perform with the Byrds. The project had support from Clarence throughout, with guest appearances from legendary bluegrass artists [[Vassar Clements]] on fiddle and [[Ralph Stanley]] on vocal. But the biggest surprise was the appearance of Gene Parsons, lead vocalist and multi-instrumentalist, who beside thumping the tubs proved to be a butt-kicking five-string banjoist and also contributed acoustic and electric guitars, pedal steel, harmonica and bass. Gene's earnest vocals front seven originals plus covers by Lowell George, old partner Gib Guilbeau, Stanley and Skip Battin. The feel of the album is as refreshingly homespun as might be expected, with an air of bluegrass that predates the genre's eighties traditionalist revival and compares with the slick commercial country rock then being produced by the various other Byrds alumni and their contemporaries. The sparse, bright production by Russ Titelman is exemplary.
The album garnered strong reviews from Rolling Stone and other music press biggies and might have prefigured a profitable, if appropriately low-key, solo career for Gene, but shortly after its issue Clarence White was killed and, in despair at the loss of his friend and collaborator, Gene withdrew from his Warners contract and retired to his California farm to concentrate on developing the Parsons-White String Bender. It would be three years before he ventured on a stage again, joining the reformed Burritos for a three-year tenure during which Gene finally found peer acceptance in a group milieu as composer and vocalist. Since then he's continued to make public music at intervals whilst devoting his main effort to production and further development of the String Bender. He still has the trademark "soup strainer" mustache and professes contentment with life in a style typical of the man.
Kindling has been reissued by Sierra Records as The Kindling Collection, which bookends the whole album with seven neglected Parsons originals from the Byrds' albums and four more from the later Burritos era. Clarence White features heavily on the former cuts and Sneaky Pete Kleinow on the latter, and the whole package is an excellent chronicle of Gene's first-division career. words / l. leichti
MP3: Gene Parsons :: Willin'
MP3: Gene Parsons :: Monument
——————
_____________________________________________________________________________________