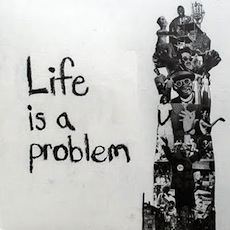 "Subject…rock & roll. Can I get an amen?" So begins Elder Charles D. Beck, the 'singing evangelist,' on "Rock & Roll Sermon, pt. 1 & 2"– arguably the most well known track found on Mississippi Records' Life is a Problem gospel compilation. And then things really start to cook.
Comprised of "raw, electric guitar-based, gospel recorded between 1949 & 1976" the 2008 collection boasts hard to find & unreleased gospel that "makes most rock & roll sound weak & contained." As with most of the label's increasingly eclectic finds, Life Is A Problem indeed culls thirteen tracks, widely unknown outside of genre completists, that are big on both soul and spirit. Things are anything but tepid, here, no matter your spiritual convictions. Make no mistake, as with similar themed compilations, one need not be of the cloth to enjoy the offerings, as sworn heathens are just as likely to get off as true believers.
Spanning three decades in thirty six minutes, Life is a Problem feels as much like a sweaty juke joint as it does a pulpit, reveling in fatback 12 bar blues, scratch electric guitar, soul and a lot of hallelujahs. Dig in.
MP3: Crumb Brothers :: Seat In The Kingdom
MP3: Elder Charles Beck :: Rock & Roll Sermon, pt 1 & pt 2
——————
____________________________________________________________________________________