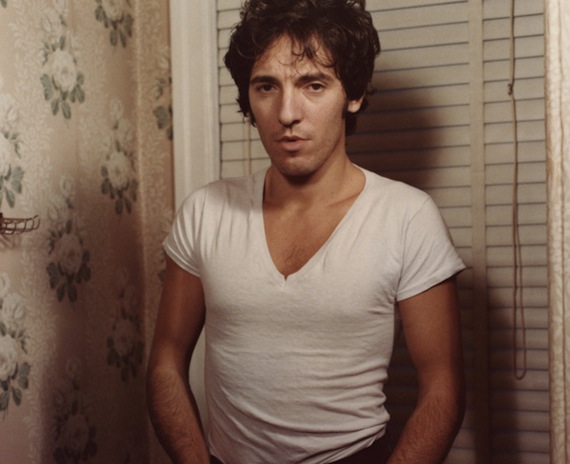 (Diversions, a recurring feature on Aquarium Drunkard, catches up with our favorite artists as they wax on subjects other than recording and performing.)
At the bottom of the page you will Patterson Hood's live tribute to Darkness On The Edge Of Town recorded in 2007, by Sloan Simpson, at the 40 Watt club in Athens, GA. Last week, on the eve of the Darkness reissue, The Promise, I asked Patterson to share his thoughts on the original LP. He did just that. Below is his transmission from the Netherlands, thinking about Darkness, while touring with Drive-By Truckers. Look for the new DBT record, Go-Go Boots, out February 2011.
I was fourteen, had just moved, was about to enter high school, puberty and all that shit. I was hanging out at the record store (as I did every Saturday) and my friend Jay, behind the counter, told me to buy this record. He probably didn't tell me it would save my life, but he might has well have. I think it got me at track 3 ("Something in the Night", still gives me chills). Somewhere around the time that everything dropped out, leaving only the voice and the kick drum, playing the most simple of things as he crooned about being caught at the state line and having their car burned that I knew this was some special kind of Rock and Roll Record.
I grew up, the son of musician, reading Rolling Stone and Musician and Creem and even Billboard (Dad had those all laying around) as well as National Lampoon and MAD (and whatever pornography I could find hidden under the bed) so I grew up steeped in Rock and Roll folklore as if that was my Grimm's Fairy Tales and or by that age, Bible.
Rockers had been singing about their cars since before Chuck Berry and no one had ever done it as well as him. Jan and Dean wrecked their car on Dead Man's Curve (followed shortly by the real thing) but they didn't have their car set fire too. I didn't know what it all meant, but I was blown away by it. I was already writing songs by that time and probably set fire to all the cars in my songs for the next year or two.
Then "Candy's Room" came on and what the hell was that all about? Those drums came in, just impossibly fast. I already knew about Punk Rock, as I saw that thing on TV (A show on NBC called Weekend did a segment on this new 'horrible' phenomenon and I was hooked). I began hitting up my friend Jay for these bands with cool names like the Sex Pistols and especially the Clash. Those records were hard to find in my Alabama hometown, but Bruce Springsteen was borderline mainstream, I mean even WQLT played "Born To Run." The fact that Springsteen seemed to be embracing Punk Rock was of astronomical importance to me in 1978.
Candy had pictures of her heroes on the wall and they all wanted to walk the darkness of Candy's Hall. Then the impossibly fast drums and gloriously loud guitars. By this time, I needed to start the album over and was nailed by "Badlands" and even more my "Adam Raised A Cain" which may still be one of my very all time songs in the world.
"In the Bible, Mama, Cain slew Abel and they said East of Eden he was cast. You're born into this life paying for sins of somebody else's past"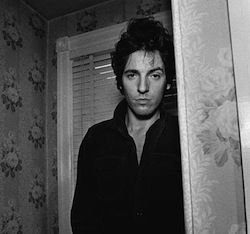 I'll spare y'all the details on the rest, but we'll just say that Darkness on the Edge of Town became my all time favorite album and remains somewhere in that vicinity to this day. My adolescence was nothing like what was described in those songs, yet somehow I felt like 'That Guy,' I drove really fast, but never drag raced. Even so, I somehow felt those victories and defeats, as if they were my own and they somehow made my own more bearable. A few years later I got to see him on The River Tour in Starkville, MS. I had to lie and literally run away from home to do so but I didn't get caught and I certainly never regretted it. It was the best thing I could have done and has a direct correlation on what I still do everyday of my life to this very day. That can't be overstated.
The new reissue is fucking fantastic. The 2 discs of unreleased stuff is revelatory and excellent. It's like the missing link joining Darknesss and The River (an album I might even like better, as I kinda like long sprawling Bruce as well as brilliantly concise Bruce). The documentary is great and I look forward to seeing all of the live footage from that most crucial of all periods of Springsteen's career.
He was never as concise again as he was on Darkness. Maybe on Nebraska, which is also an all time fave of mine, but there is something about Darkness that might be his ultimate statement about living with the consequences of your dreams.
If Born To Run is about chasing your dreams, Darkness on the Edge of Town is about carrying on after they don't come true. It's a very grown up look back at all of the adolescent mythology that Rock and Roll was built upon. You race in the street but you also get caught at the State Line and they burn your car down. She looks off into the night with disappointed eyes and you sit there pondering something. Something indeed. Something in the Night.
words/ Patterson Hood 18, November, 2010 (Groningen, NL)