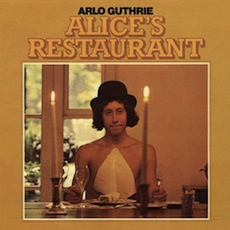 ALICE MAY BROCK, born in Brooklyn, New York, on February 28, 1941. A Pisces … Grew from a difficult child to a juvenile delinquent to a regular (irregular) person … Spent a few years in high school …. reform school … fancy school …. Moved to the Lower East Side, then to the green greener Berkshires … Married crazy Ray D. Brock (picked up in old Cedar Street Tavern) … Worked as a librarian at the Stockbridge School … Bought a church … sang songs … Fooled around … Cooked good good food with a smile and other expressions … Bought a crummy diner …. Turned it into a crazy-yummy-cozy restaurant … Got tired … Got divorced … Got famed by Arlo Guthrie, an old friend who wrote the song "Alice's Restaurant," which inspired Arthur Penn to direct the movie Alice's Restaurant–about Alice and Ray and Arlo and the Scene … now in the past. Thru it all Alice is a real live human bean–Still foolin' around and still cookin' …
Around here, Alice's Restaurant is as much a part of Thanksgiving as turkey, stuffing and pants that used to fit just 24 hours prior. "Alice's Restaurant" could mean any number of things, though. It could mean Arlo Guthrie's debut record, released in 1967 when he was just 20 years old. It could be the epic 18-minute comedic folk-monologue "Alice's Restaurant Massacree" that encompasses the entire A-side of that record. It could be the 1969 film Alice's Restaurant, adapted from the song. Or it could be "Alice's Restaurant Cookbook," by Alice Mae Brock, the woman from whom all of the previous was more or less inspired, and whose author's bio you read above, taken from the back book jacket of a real, live copy.
Arlo Guthrie :: Alice's Restaurant Massacree
By now, most of you are probably familiar with the song "Alice's Restaurant Massacree," a satirical protest ballad that revolves around a Thanksgiving in 1965, a church-cum-flophouse, littering and all that you can and should do to avoid a war draft that receives its fair share of humiliation along the way. It's written in the sort of carefree countercultural voice of the mid-'60s, before mounting frustration (and drug use) created a noticeably edgier, grittier anti-war movement just a few short years later. It's a lighthearted, though meaningful, rendition that contrasts the elder Guthrie's more pointed, sometimes serious social critiques of decades past.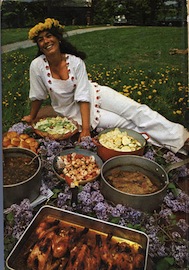 The film–an exaggerated version of actual events, much like the song–is adapted true to form (but admittedly wanders a bit at times searching for length). A parade of hippie hitchhikers and free-spirited vagabonds comes and goes from Alice and Ray Brock's reformatted church. The pivotal moment arrives, of course, after an Alice-made Thanksgiving feast for a horde of peaceniks creates a truckload of trash that has to be disposed of. Arlo and a friend try the dump, but it's closed for the holiday, and they figure a roadside embankment works just as well. Police officer Obie (who plays himself in the film) arrests the pair for littering, and from that point, Arlo spirals into an often hilarious assault on the establishment.
At the center of all of this is Alice and Alice's food. She champions the innocence of youth, the impracticality of the status quo and the changing tide of a generation. (Interestingly, the film probably unintentionally captures this earlier, maybe more naive, less-structured version of hippie culture than what we're used to reading about.) Though just a few years older than they, Alice acts as a mother hen for a group of people not entirely clear on where they're headed, but steadfast on where they aren't. She's warm-hearted and genial, sometimes tough and absolutely loyal. She has rules, but structure isn't of the utmost importance. You get the idea things aren't always easy for her, but she's strong enough not let on too much. And these are necessary components to understanding her cookbook. Because you have to know her to know her book.
Published in 1969, the book is now out of print (a few copies can be found on eBay*), and it comes with a paper-wax record insert**. (The record is a cut-out with two tracks on it: "Italian-Type Meatballs" and "My Grandma's Beet Jam," both by Arlo and Alice.) The book is about as informal as Alice, and it injects all of the personality you'd hope the real Alice would have. The recipes read like a conversation, often without specific instructions (like measurements), leaning heavily on approximations. There are probably more helpful cookbooks out there, but few are as amusing to flip through. The first two chapters read like this:
1. Soup
2. Nice things to put in your soup (…or someone else's soup)
The book includes recipes like the "Mexican Heartburnger," somewhat random asides like "Final Beef Thoughts," and a photo of a man in a chicken suit standing on a couch-sized clog (yes, the Dutch footwear.) An excerpt from a chapter introduction captures her casual and inviting nature:
"If your kitchen is purely "functional," chances are your cooking ill be, too. Atmosphere is very important. My kitchen is a collage. Anything and everything that strikes my fancy is stuck on the wall or a shelf–pots and pans, paintings and vegetables, old bottles and buttons, toys and books.
"I really have a good time playing in the kitchen. The other night while I was making an omelet, a friend walked in and said, "Alice, what in the world are you laughing at?" "The egg," I said. I tend to treat all things the same, and am always relating to inanimate objects as if they were alive. "This pot is just not in the mood for fondue." "Come on, you silly carrot." For me, it's much easier to work with things that I can be friends with–even if it's just a can opener. It makes the work that much more fun. It's my own style of fighting alienation in the mechanical world.
"Since you will spend a lot of time in the kitchen, and most cooks do, make it your favorite room–personal–a place where you relax. A comfortable chair, some good books to read while you're waiting for the pot to boil, music, flowers, paintings on the walls. And don't save the wines for the sauce. A tiny kitchen is no excuse. There is always room for you and expressions of you. Enjoy the whole production. Cooking should never be frantic or angry or rushed because the most important ingredient is the spirit. And the spirit carries over to the table."
That last bit is pretty good advice this holiday, maybe even better than tablespoons and oven settings. I'd suggest taking it. I know I will. Happy Thanksgiving.
Thanksgiving Recipe:
Alice's Roast Chicken or Turkey (same basic instructions for both birds).
Preheat your oven to 325. Take a good-size chicken (try a capon for a change–it's a castrated rooster, but good!) and grease the breast with butter or oil, or place a few bacon strips across the chest. Put the bird in a roasting pan or on a roasting rack with a roasting pan underneath. Put it in the oven. It takes about 20 minutes per pound to cook. If you have stuffing inside, do it long–40 minutes per pound won't hurt–and baste it with the juices in the pan. Anyway, you can tell when it's done when its legs wiggle freely and the meat pulls back from the feet. Also, you can stick a fork in the thigh and if the juices run out clear, it's supposed to be done.
Serve it with vegetables roasted in the pan. Just add some cut-up carrots and peeled onions the last hour.
————–
*I found my copy for $20 or so after bidding, and it was in pretty good shape. Slim pickin's, though.
**Finding a working record insert is a bit harder to come by, as they were cut-outs from the back binding, and that was 40 years ago. Mine had one, and it worked. But alas, it fell onto the floor, was stepped on and dragged. If you're interested, happy hunting! | j. crosby
'Tis the season! Aquarium Drunkard is powered by our patrons. Keep the servers humming and help us continue doing it by pledging your support via our Patreon page. For heads, by heads.