(Sevens, a recurring feature on Aquarium Drunkard, pays tribute to the art of the individual song.)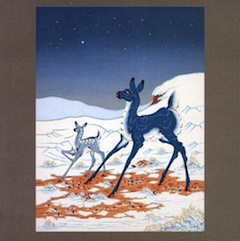 In January of 2006, Will Oldham, under his working guise of Bonnie 'Prince' Billy, released a collaborative ten track covers album with the comparatively abrasive post-rock quintet Tortoise. They called it The Brave And The Bold. I loved the project from the get-go, but seemed to be in the minority as its release was met with little fanfare and/or praise. Not to mention outright disdain from a portion of longtime Palace fans. It would be easy to say 'fuck 'em if they can't take a joke,' but that would miss the point entirely. As with everything Oldham has covered over the years, you get the inherent sense that he respects the work, whatever it may be, from the R. Kelly and Danzig covers to glossy mainstream pop hits.
Comprised of ten tracks, the collection spans re-workings of Richard Thompson, Elton John, the Minutemen, Devo, and, notably, Bruce Springsteen—who I'll get to in a bit. Many of the offerings are unrecognizable from that of the original intent; broad reinterpretations using the scarcest trace elements of the source material. This treatment, not unlike Mark Kozelek's own method of tearing source material down to its skeletal frame before building it back from the ground up, lends an altogether new presence to many of the songs. In Oldham and Tortoise's hands, Elton John and Bernie Taupin's "Daniel," loses the 70s schlock, transformed into an outright spooky paean of…something.
For Springsteen devotees, the "Thunder Road" cover may be the most jarring of the bunch in terms of its complete removal from any semblance of the Boss's original. No anthemic fist-pumping here. In its stead we find a slightly proggy dirge—a lament. The 'fight' found in the original is nowhere to be heard; the song's lyrics themselves now reek of a darkness, a harbinger of dread. So, depending on what you look for in a cover, the version succeeds in its intent in re-defining what, until then, seemed so incredibly defined.
Elsewhere: In related news Twenty-Four Bit/Consequence of Sound have the details on Oldham's new band, the Babblers, that just kicked off their tour (they were in Athens, GA last night). The band is reportedly covering songs from Kevin Coyne and Dagmar Kraus' 1979 album Babble. The short run focuses primarily on the Southeast with a gig up the seaboard to NYC.
MP3: Bonnie 'Prince' Billy w/ Tortoise :: Thunder Road
——————
____________________________________________________________________________________