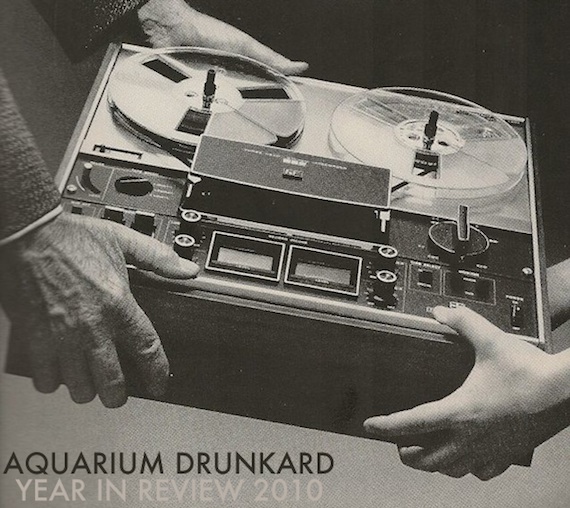 I'm scrapping the usual year-end wrap up and instead dropping an old school form letter on you. Just like the kind your granny used whip up and put inside her Christmas cards. So sit down, eat some peanut brittle, and we'll get right into it after the jump.
In a year that saw a lot of trend-jumping, regrettable 80s synth ripoffs and worse, this is a list of what caught, and kept, my attention in 2010. File under fire. Gil Scott-Heron: you blew minds all over again in 2010 with the seemingly out of nowhere release of I'm New Here. Busting out of the gate last February I've devoured the album a little more with every passing month, finding fresh nuance with every listen. Fierce. My long Player of the year = Deerhunter's Halcyon Digest. While "Desire Lines," delivered by Lockett Pundt, is (at time of writing) my favorite track off the album, hats off to Deerhunter's tireless Bradford Cox whose vision continues to push the band. And by push I don't mean self-conscious experimental wankery, as Halcyon is their most accessible LP to date. In related news, be sure to check out the four (free) Atlas Sound releases Cox dropped around Thanksgiving: Bedroom Databank Volumes 1, 2, 3 and 4. One of my favorite new outfits from 2008, Women, returned in August with their sophomore LP, Public Strain. Women are among a small cadre of bands currently defining what I like best and most about this most recent block of 21st century post-punk. No Age fit this bill as well—as most recently demonstrated by their sophomore album, Everything In Between. More polished, yet still a ripper.
At the other end of the spectrum, Girls (SF) delivered more art-pop confection with their Broken Dreams Club EP, further whetting the collective appetite for their sophomore full-length. The baroque avant-pop that is John Grant's Queen Of Denmark caught my attention mid-year and has yet to let go. A sound that at once invokes the 70s art pop of Todd Rundgren, the pastoral folk of Heron and, at times, the vocal phrasings of Nina Simone, it's destined to become a cult favorite. Have you been keeping up with the Walkmen? I hope so. Continuing in the vein of 2008's You And Me, the group's 2010 LP (and Fat Possum debut), Lisbon, basks in the same hazy, uptown, New Orleans vibe as its predecessor—all blue cigarette smoke and shadow. The band's NYC compatriots, the National, delivered High Violet earlier in the year; an LP that defined the word 'grower' for me in 2010. Also from New York, Sharon Van Etten, whose debut popped up on last years best of 2009 list, returned in 2010 with the fleshed out Epic. Ditto goes for Blair's Die Young.
While there were too many outstanding reissues and compilations to fully get into here, the following are some titles currently piled on my desk and leaning against my turntable: Jim Sullivan's U.F.O., Group Inerane: Guitars From Agadez Vol. 3, Orange Juice's Coals to Newcastle box set, Ted Lucas's The Om Album, the complete set of Fela Kuti reissues, the Turkish Freakout 60s/70s psych comp, the Nolan Strong tribute LP, Daddy Rockin' Strong, Jane Birkin & Serge Gainsbourg's Je T'aime… Moi, Non Plus, the Next Stop Soweto series, the Exile and Darkness On the Edge of Town redux's and just about everything Numero Group put out. Moving onwards… The Lenny Kaye approved garage blast that is Austin, TX's Harlem dropped their sophomore LP, Hippies, in April—their first on the Matador label. Warpaint, who caught their stride last year with the Exquisite Corpse EP, delivered in 2010 with their debut full-length, The Fool—a document that finally matches the strength of their live show. Nick Cave weirdos (raises hand) rejoiced with the growl and snarl of the second coming of Grinderman.   Phosphorescent's Matthew Houck released Here's To Taking It Easy in May; his first collection of original material since 2007's Pride. Borrowing from the sound of his 2009 covers album   To Willie, the record finds Houck and band settling into a comfortable, well-worn, groove that fits them like a glove.
If it seems like I write about and play a lot of Richard Swift tunes on my radio show it's because I do. Swift continued to unveil music via his blog the year, most notably his collaboration with Damien Jurado, Other People's Songs Vol. 1, a collection of nine, choice, covers. Swift also released the excellent Walt Wolfman EP that is, among other things, home to the finest song to ever address Drakula. Also in EP news is Kurt Vile's Square Shells.   Cotton Jones, following up a super strong EP, dropped Tall Hours In The Glowstream, a record that, scratch that, a group that are truly exploring 'cosmic American music' in 2010. Mavis Staples released her best album in decades, You Are Not Alone, with production duties helmed by none other than Jeff Tweedy. Pops Staples would be proud, indeed. On the neo-soul tip don't miss the new Aloe Blacc album out on Stones Throw, Good Things—an album that is exactly that. Austin, TX's favorite chameleon outfit, White Denim, added a fourth member this year and unloaded a free LP at the tail end of the summer… appropriately entitled Last Day of Summer.
In other news the Jacuzzi Boys, out of Miami, just keep getting better. When it comes to trending music, it's nice to see the youth of today continuing to embrace the evergreen aesthetic that is garage rock. Keep that shit up, kids! Hey, even VBS.tv did a profile on the 'movement'. Speaking of, one of my favorite LPs of the year, Ty Segall's Melted, was birthed out of the incredibly fertile Bay Area garage scene that is also home to the Sandwitches, Hunx & His Punx, the Mantles, The Oh Sees and The Fresh And Onlys (really, I could go on for at least five more bands). Another record, by way of San Francisco, that saw a wider release in 2010, is the Sonny And The Sunsets joint Tomorrow is Alright. Sonny has been banging around, in one form or another for years, but this where it all comes together like some kind of whimsical NoCal supernova. Also from the bay, Berkeley's Morning Benders made good with Big Echo…produced by Grizzly Bear's Chris Taylor. This is an album that begs for the decent-pair-of-headphones treatment.
After several years and two albums of being lukewarm on the Black Keys I am fully on board again with the release of Brothers. Shit smokes. (Bonus points: they really let their T-Rex flag fly on the opener). Drive-by Truckers' tenth album, The Big To Do, stayed in my rental car's disc changer for two weeks this summer while driving around the South, in a humid haze of 98 degree heat, as did Futurebirds debut, Hampton's Lullaby, an LP that sounds like the nexus of Neil Young's Stray Gators and Crazyhorse personas. NC's Megafaun continued to deliver on the early promise of their Bury The Square EP with this year's excellent mini-album in Heretofore. Their NC neighbors, The Love Language, also delivered the pop smarts with their sophomore record, Libraries. Up north, New Jersey's Titus Andronicus made good on the expectations of their debut with The Monitor; a Civil War driven rock & roll record residing somewhere between the Replacements and Springsteen. Speaking of Jersey, Roadside Graves EP, You Won't Be Happy With Me, built around the epic "Liv Tyler," has me counting the days/months for their next release, an song-cycle built around S.E. Hinton's The Outsiders.
Back home, here in the perennial sunshine of Los Angeles, local music has been its typical eclectic and random self. I released the second installment of my local music compilation series in June. This time I chose eight bands to each cover a track off Television's sophomore LP Adventure, entitled—wait for it—L'Aventure. Like the L.A. take on McCartney's RAM the year before, L'Aventure is a study in not only the reinterpretation of material, but of the diversity of L.A. music as a whole. It is available for download, for free, here. (Look for my local L.A. and Autumn Tone wrap-ups later).   That's it for this year's stream-of-consciousness rundown.   If your eyes haven't crossed yet, hit up the comments below and tell us what you liked in '10. Cheers – AD
____________________________________________________________________________________