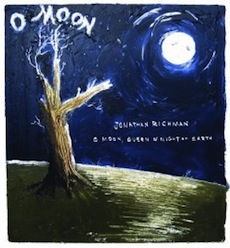 Every couple of years or so, whenever the mood strikes, I hit up the Jonathan Richman section of the record store as he consistently releases albums I tend to miss out on. (Did you know he is now on Vapor Records, Neil Young's imprint? Neither did I.) Over the holidays, while in Athens for a a couple of nights, I did the requisite visitation and perusal of the downtown record shops. As fate would have it, this time during my irregular checking of the Richman stacks, it turned out the artist had just released a new record, O Moon, Queen Of Night On Earth. I picked it up, carried it to the clerk at the register and bought it; marking the first Jonathan Richman LP I had purchased, upon its release, in years.
You either like Richman or, well, you just don't. There is not much middle ground for an artist alternately described as infantile and brilliant. Having almost immediately abandoned the proto-punk sound he helped ignite with the Modern Lovers debut, Richman has been following his own curious muse for three-plus decades now. Here, on Oh Moon, we find Richman donning many of the familiar hats he's worn over the years: "foreign language Richman," "folkie Richman," "whimsical Richman," and more often that not, employing a number these (and more) at the same time. It's these idiosyncrasies we fans have come to embrace, and expect, over the years.
The track below, "I Was The One She Came For," is vintage Richman through and through. It's nothing fancy and it certainly doesn't find Richman treading any new ground. He doesn't have to—he marked his own territory years ago. Instead, in 2011, we the audience are invited inside Richman's world should we care to join him.   I, for one, am glad I thought to check the stacks that day at Wuxtry.
MP3: Jonathan Richman :: I Was The One She Came For
———————
____________________________________________________________________________________