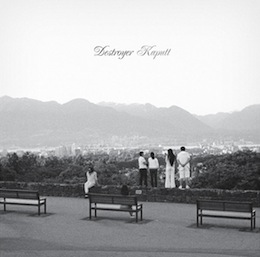 There's an obvious thread that connects all of the nine Destroyer albums: Dan Bejar. That said, you might be hard pressed to know for certain that the same man was behind all of the albums if given to you as a blind musical listen. Add in Bejar's distinct voice and lyrical vision however, and all of them lock into place.
That premise is going to test some fans of the band on Destroyer's latest, Kaputt, which delves eyes-deep into a smoky and synth-laden vision of 1980s pop. As a follow-up to Trouble in Dreams, a record that received its share of critical shrugs, it's hard to imagine a more unexpected turn from Bejar. Treated drums, multiple saxophone parts – initial listens come across like a genre exercise, the musical equivalent of a period piece. There's every chance for the record to crash under the weight of its own postured excess.
But it doesn't. Songwriting wise, Bejar is the best he's been since his dizzying Destroyer's Rubies. "Savage Night at the Opera" makes use of Bejar's verbose, imagistic wordplay ("you'll never guess just where I've been / a life abandoned mid-stream / quatrain etched on a turnstile / to set the loop and then go wild") to paint a typically sprawling set of vignettes. Lead track "Chinatown" reads like a paean to dissolving lovers that can't quite extricate themselves from one another over top of a pulsing synthesizers and bright acoustic guitars. The record is chock full of recognizable sounds – the delicate chug of the Human League on "Poor in Love;" the new age opening half of "Suicide Demo for Kara Walker" – but with Bejar's voice and lyrics over top of all of them, the album sounds completely unique. It's an unexpected twist that a record designed to sound like so much before it would come out so fresh.
Kaputt's musical ode to one of the more unfairly maligned decades of commercial pop will undoubtedly cause some noses to wrinkle, but Destroyer has created an album that demonstrates the transcendence of good songwriting. Whatever the listener's gut feeling about the music here, there's plenty to love if you love Destroyer and Dan Bejar's songwriting. It may also serve to drag new listeners into his fold just because of the music itself. Either way, Kaputt succeeds both despite and because of its musical direction. words/ j neas
Further Reading: Destroyer :: The AD Interview
MP3: Destroyer :: Chinatown
——————
____________________________________________________________________________________