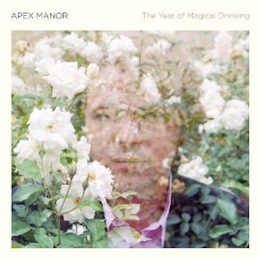 You'd be hard pressed to name two finer power pop records from the past decade than the two released by the Broken West. Not only were the albums full of the shimmering hooks, harmonies and bridges that are essential for a great record of that style, but they showed amazing growth as well, even if the second, Now or Heaven, dialed back the production to a colder effect, downplaying the instant hook of the record's near flawless run of songs.
When the band called it quits in 2009, singer Ross Flournoy spent time dealing with writer's block before re-teaming with sometime collaborator Adam Vine and composing the album that became Apex Manor's debut, The Year of Magical Drinking. The results are a natural progression from the Broken West albums, an amazing combination of the first album's giddy production and the second's firecracker songwriting.
"There's nothing like forgetting who you really are / when you're four fingers deep in a mason jar," sings Flournoy on album opener "Southern Decline," and this kicks off a set of ten songs, rolling by in just under 40 minutes, that seem to loosely follow a cycle of a year lost in the bottle. Whether it's the pressure of performance in "Under the Gun," the emotional specters of "The Party Line," the rambunctious, celebratory "Teenage Blood," or the delicate desperation of "Burn Me Alive," it's a record with lyrics that balance ache and arousal, sentiment and serenity in equal doses. By the time the closing number finds our narrator "Coming To," the album's finely honed juxtapositions have come home to roost.
And it's the music here that plays a large role in that as well. Augmenting the lyrical tones is some of the most infectious and delirious music Flournoy has created yet. The whole record is worth the bridge of "The Party Line" alone, its plaintive, soaring petition that the narrator "needs to know if the world is round" sounding like someone genuinely confused about the answer. The record feels like two halves, the raucous "Teenage Blood" kicking off the second half before the album takes a softer turn through the gorgeous "Holy Roller." The aforementioned "Closer To" even echoes Merge label-mates the Rosebuds in its sunny, minor-key jangle and Flournoy's delivery. This deft clash of wounded lyricism and musical lift is at the heart of every great power pop record and The Year of Magical Drinking has it in spades. It's going to be a tough race to craft a better pop record this year.   words/ j neas
MP3: Apex Manor :: Teenage Blood
——————
____________________________________________________________________________________